Nexus 6 vs Galaxy Note 2: 5 Details Before You Upgrade
Samsung's Galaxy Note 2 is what really kicked off big-screen smartphones, and it's still an extremely popular device. It was released in October of 2012, and at this point owners are approaching their 2-year upgrade. Last week Google officially announced a brand new flagship phone that should be on many of those users radar. The Motorola-made Nexus 6 smartphone. Buyers have a lot of choices, and with the Galaxy Note 2 showing its age, the Nexus 6 is a perfect replacement.
Now that the Nexus 6 is official and all the reports, rumors and leaks have been confirmed as accurate, buyers are probably pondering if it's worth buying. While many Note 2 owners have likely updated to the Galaxy S5, Note 3, or are eying the Note 4, Google's new Nexus 6 is absolutely worth checking out.
Read: Nexus 6 Pre-Order Details Arrive
The Galaxy Note 2 was announced in September of 2012, and launched around the globe in October. That means if you bought it around launch, or during the holidays, your contract upgrade is available now, or coming up soon. Especially those looking to jump on AT&T Next, Verizon Edge, or any of the other various early upgrade programs. Read on for everything you'll want to know about the Note 2 vs the Nexus 6.
The first Galaxy Note was released in 2011 and was a massive 5.3-inch "phablet" and it officially kicked off the phablet term. It was too wide and hard to hold, but the Note 2 that replaced it was a worthy successor that many people still use and enjoy today.
Samsung's Note 2 is still a premium smartphone that many owners can use and enjoy for years, but with screen sizes and resolution increasing, cameras improving, and the latest Android 5.0 Lollipop update finally here some could be looking to switch. Not to mention the Note 2 may be approaching that 18 month update window, where it won't see Android 5.0 Lollipop.
The Galaxy Note 2 offers a large HD display and plenty of premium features, but like all things, a replacement is eventually going to arrive. And while we can't predict a users wants, needs, preference or even budget, below we'll rundown a few key details you'll need to know about the Nexus 6 before considering the switch.
Display
The biggest difference between these two phones at first glance will be the display, and we're not talking about the screen size. While the size is important, it's the resolution here that will be a killer, and make you want to switch. Android smartphones have continued to get bigger and bigger, a trend which was kicked into full gear by Samsung. The new Motorola Nexus 6 is the biggest Nexus device yet. So much in fact that it has turned off many potential Nexus buyers simply because it may be too big.
That being said, each user has different needs and wants, and this is what Google felt was best moving forward. Giving users more space to do what they want with Android 5.0 Lollipop and the 5.96-inch display on the Nexus 6. However, that huge screen is a Quad-HD screen with a 2560 x 1440 2k resolution display. Meaning it has tons of pixels, and pictures and video will simply look stunning.
Yes, the Nexus 6 has nearly a 6-inch screen, which is quite big compared to 5-inch screen on the Galaxy S4. It's even bigger than the Galaxy Note 4 or iPhone 6 Plus. This is a Nexus phablet.
This may be the biggest concern for buyers. The Galaxy Note 2 only has a 5.5-inch 1280 x 720p HD display. It's still big and easy to see, but has a rather low and outdated 720p resolution. The big size of the Nexus 6 might be a bit much for some, but it's barely bigger physically than the Note 2, yet will look leaps and bounds better. Quad-HD means it has four times the pixels of regular screens. So keep that in mind.
Below is a quick comparison between some other large devices recently released. Showing it's size compared to the Note 4 and iPhone 6 Plus, meaning it's certainly bigger than the Galaxy Note 2, but not by much.
This is a big phone. A "phablet" in every sense of the word.
Samsung's known for having some of the best displays on the market, but the Galaxy Note 2 technology is just getting old, and a 720p resolution has no business being on a 5.5-inch or bigger phone in 2014.  If you update to the Nexus 6 (or Note 4) you'll be amazed at how wonderful everything looks.
Design
Another important difference will be the design and build quality. The Note 2 was the last all plastic and rather cheap looking Galaxy device released, and it won't look nearly as premium as the Nexus 6. The Note 2 is all plastic, and doesn't look or feel all that pleasing. Previous Nexus devices have been built of plastic too, rather lightweight, and not the most durable or attractive looking devices. The new Nexus 6 has a few big changes that will make it stand out. For one, it comes in a beautiful blue or white color, and is wrapped in a brushed aluminum ring for added durability, protection, and styling.
https://www.youtube.com/watch?v=wk-PY2dBKaA
Both phones are pretty thick too, but the subtle curves of the Nexus 6 make the 10mm thickness feel extremely thin as it curves to a sleek edge on the sides. It will look thinner, and feel thinner while holding. The Note 2 will feel like a brick in comparison. Another key aspect of the design is front facing speakers, just like the Nexus 9 and the HTC One M8, the Moto Nexus 6 has dual front facing speakers. One integrated into the earpiece up top, and another below the on-screen keys down below. This should make sound much improved, especially compared to the Galaxy Note II which has a single, small speaker on the back facing the wrong direction.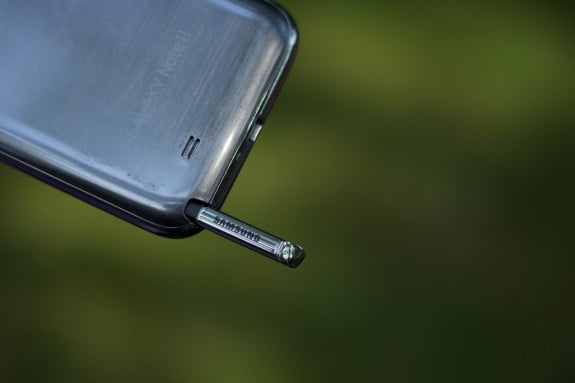 That aside, the Galaxy Note 2 is still a decent phone. It's somewhat thin, lightweight, but made of all plastic. It does have an aluminum-looking ring around the sides like the Nexus 6, but that too is made of plastic. It's more for looks than durability and design.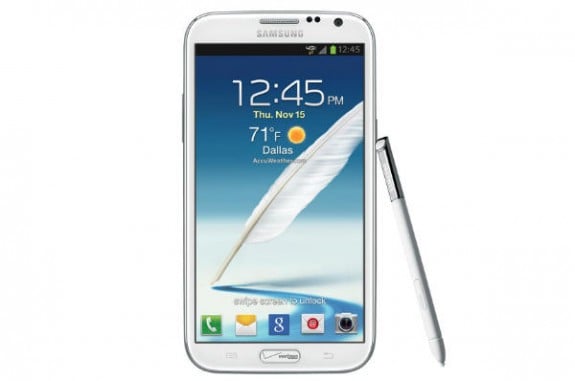 Don't get us wrong. The Note 2 was a great device, but it's just starting to show its age. The camera can't keep up, the screen doesn't look nearly as good as even mid-range devices released last year, and by now that battery probably isn't lasting all that long. The Nexus 6 promises great battery life, something all smartphone users can get behind.
Release Date
So when can you get one? Soon. After reading the above information you probably want one, so here's what we know. It was announced October 15th, pre-orders go live on the 29th, and it should be available in early November from all major US carriers.
The Nexus 6 is going to be available on AT&T, T-Mobile, Sprint, US Cellular and… Verizon. Yes, all five major US carriers will offer the Nexus 6, which is a first for any Nexus device. The same can be said about the Note 2, which is available on most carriers, even smaller ones the Nexus 6 won't be. That could be an issue for some, but most use the five major carriers, and the Nexus 6 will be a worthy upgrade when it arrives early next month.
T-Mobile states the Nexus 6 will be available on its shelves come November 12th, and we saw pre-order pages on AT&T accidentally go live early too. While we can't confirm any other dates, it's highly plausible most US carriers will offer it come November 12th, if not slightly before or after. This means the Nexus 6 will be here next month right in time for 18 or 24 month update window offered by carriers. Especially for the two year old Note 2.
Read: Nexus 6 Release Date Breakdown
A completely unlocked Nexus 6 will be sold from the Google Play Store, possibly a few days ahead of carriers, but it's too early to tell. We'll know more in the coming weeks as the Nexus 6 release date approaches.
This all said, the Note 2 is also available for huge discounts now that the Note 3 and Note 4 have replaced it. You probably can't buy one in stores these days, but this is more geared for those looking to update, rather than comparing the two. I mean, we already know the Nexus 6 is the better phone.
Specs
The Nexus 6 is the biggest, fastest, and best Nexus smartphone to date. It's also huge. It has all the top-tier specs users come to expect, rather than slightly undercutting the competition and offering a lower price. It's on par with the Note 4, Galaxy S5, and all other manufactures this year, if not beating many in multiple key areas. This means it's certainly a HUGE upgrade over the aging Note 2 from 2012. While specs aren't everything, some like the cold hard numbers, so here they are.
Nexus 6 Specs

5.96-inch 2560 x 1440 Quad-HD Display
2.7 GHz Quad-Core Snapdragon 805 processor with 3GB of RAM
32GB/64GB internal storage
Android 5.0 Lollipop (64-bit support)
13 Megapixel camera with OIS, 2 MP front camera (4k video capture)
Dual Ring Flash similar to Moto X
Dual Front-facing speakers
Aluminum frame around device like the new Moto X 2014
3,220 mAh battery
Galaxy Note 2 Specs
5.5-inch 1280 x 720p HD Display
1.6 GHz Samsung Exynos Quad-core with 2GB of RAM
16/32GB storage and micro-SD support
Android 4.4.2 KitKat (Probably won't see Android 5.0)
8 Megapixel rear and 1.9 front cameras
S-Pen stylus for content creation
3100 mAh battery
Obviously the Nexus 6 is the better device, but it beats it in key areas a user will want. Those being a bigger better HD display, improved battery life, the latest features with Android 5.0 Lollipop, and a quality 13 megapixel camera. The only thing the Note 2 still has going for it is the S-Pen.
Again, most manufacturers promise (and agree with Google) on an 18 month update window. Meaning the device will see updates for 18 months. The Note 2 is past that, and is still on Android 4.4.2 KitKat. It hasn't seen updates to Android 4.4.4 KitKat (but might) and will probably never officially be updated to Android 5.0 Lollipop. That is another major thing you'll want to consider.
Price
Last but certainly not least is the price. Samsung's devices have always been expensive, but buyers usually get them on contract and pay $199. This is something that will also be available for the Nexus 6 for the first time in Nexus history, so the price shouldn't be a huge concern, but is worth addressing. If you're looking to update with the 2-year window this won't matter, but if you want to buy off contract, be prepared to spend a pretty penny.
Google's Nexus 6 is $649 for the 32GB version and $699 for the 64GB model. There is no micro-SD slot. This is expensive, but it's cheaper than the smaller Samsung Galaxy Note 4 that was released earlier this month. Meaning it's expensive for a Nexus, but still undercuts larger devices of this caliber, making it a pretty good deal and worth looking at over the Note 4.
You could probably get the Note 2 for under $300 refurbished or used, and some carriers may have it for $49 on contract, but at this point there's absolutely no reason to take that route. Again, this is for those with a Note 2 looking to upgrade, but figured that was worth a quick mention.
All said and done, most buyers are used to spending $199 or so on-contract, which is what we're assuming the Nexus 6 will cost. So if you're looking for an impressive big new phone, one with all the bells and whistles that will make you put away that old Note 2, the Nexus 6 may be a great choice if you haven't already bought the Galaxy Note 4.

As an Amazon Associate I earn from qualifying purchases.