Nexus 6 vs Nexus 4: What Buyers Need to Know
The Nexus 4 was released nearly two years ago and was an extremely popular smartphone, but last week Google officially announced a phone that may have Nexus 4 owners wanting to upgrade. The Motorola-made Nexus 6 smartphone. Buyers have a lot of choices, and with the Nexus 4 getting a bit old these days many may be considering making a switch.
Now that the Nexus 6 is official and all the reports, rumors and leaks have been confirmed as accurate, buyers are probably pondering if it's worth buying. While many have likely upgraded to the Nexus 5 or iPhone 6 already, the new Nexus 6 will be here soon to give you another option.
Read: Nexus 6 Pre-Order Details Arrive
The Nexus 4 was announced nearly two years ago on October 29th, 2012, and released about two weeks later. The same timing delivered the Nexus 5 in 2013, and now the Nexus 6 this year. This month they're doing the same thing as they announced the new Nexus 6, Nexus 9 tablet, and the operating system they'll run on, Android 5.0 Lollipop. If you still rock the Nexus 4 and are considering making the switch, read on for all the details you need to know.
Google's Nexus 4 was the fourth smartphone in its popular Nexus lineup which succeeded the Samsung Galaxy Nexus from 2011, and was the first of two smartphone released under the Google Nexus branding made by Google. The Nexus 4 first, and last years Nexus 5 as well.
Early rumors suggested the Nexus 6 could be made by LG too, but of course we now know that was wrong and Motorola was the manufacturer of choice. The past few months have been filled with reports and rumors of a new Nexus 6 coming, but those were all put to rest last week when Google officially revealed the Moto Nexus 6 smartphone.
There are plenty of awesome features still working great on the Nexus 4, even though it's nearly two years old, but with a small screen and aging specs, the Nexus 6 could be arriving just in time for those who usually upgrade every two years.
Display
One key aspect of any smartphone buyers decision (aside from the price) is the size of the screen. Android smartphones have continued to get bigger and bigger, and the new Motorola Nexus 6 is the biggest Nexus device yet. So much in fact that it has turned off many potential Nexus buyers simply because it may be too big.
That being said, each user has different needs and wants, and this is what Google felt was best moving forward. Giving users more space to do what they want with Android 5.0 Lollipop and the 5.96-inch display on the Nexus 6. However, that huge screen is a Quad-HD screen with a 2560 x 1440 2k resolution display. Meaning it has tons of pixels, and pictures and video will simply look stunning.
Yes, the Nexus 6 has nearly a 6-inch screen, which is massive compared to Nexus 5, and trumps the small Nexus 4 from 2012. It's even bigger than the Galaxy Note 4 or iPhone 6 Plus. This is a Nexus phablet.
This may be the biggest concern for buyers. The Nexus 4 has a 4.7-inch 720p HD display (similar to the iPhone 6, actually) which is much smaller than the Nexus 6. This may not matter to some, but for others it's a big change and simply puts the device out of mind. Google's Nexus 4 had a 720p HD resolution, the Nexus 5 improved to 1080p, and the new Nexus 6 is Quad-HD, or a 2k display.
Below is a quick comparison between some other large devices you've probably seen in the past, meaning the Nexus 6 is much larger than Google's old Nexus 4.
This is a big phone. A "phablet" in every sense of the word.
Design
Another big change is the design. Previous Nexus devices have been built of plastic, rather lightweight, and not the most durable or attractive looking devices. The Nexus 4 had a neat glass-like back with a shimmery glass effect that many enjoyed, but it was also extremely fragile and cracked often. The new Nexus 6 has a few big changes that will make it stand out. For one, it comes in a beautiful blue or white color, and is wrapped in a brushed aluminum ring for added durability, protection, and styling. No other Nexus has offered aluminum, except the original HTC Nexus One.
https://www.youtube.com/watch?v=wk-PY2dBKaA
Everything about Motorola's Nexus 6 screams big, although the back features subtle curves that wrap into the aluminum edges to make it feel extremely thin in your hand, even if it is nearly 10mm thick at the biggest point. It doesn't sound thin on paper, but will still feel excellent in your hands. Another key aspect of the design is front facing speakers, just like the Nexus 9 and the HTC One M8, the Moto Nexus 6 has dual front facing speakers. One integrated into the earpiece up top, and another below the on-screen keys down below. This should make sound much improved, especially compared to the Nexus 4 which had extremely poor sound quality.
That aside, it features the same soft touch matte plastic design for the rest of the device, in a new blue or white color option. It should feel somewhat similar to the Nexus 5 and Nexus 7, only better with the aluminum banding.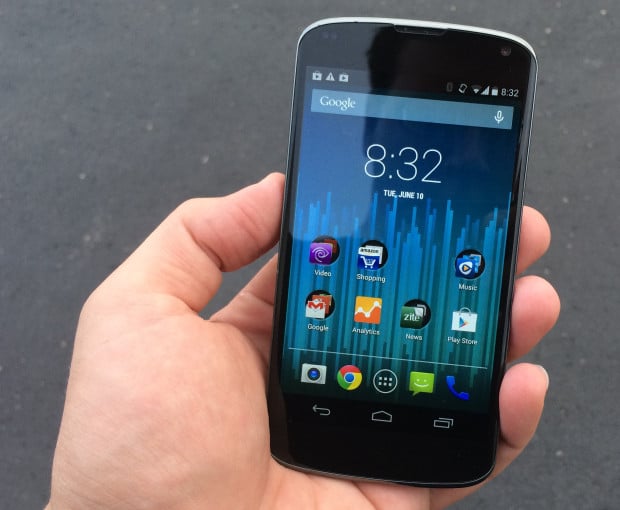 On that same note, there is nothing wrong with the Nexus 4 design, look and feel. The camera could have been a little better, and the odd glass back ended up being more of a nuisance than something neat to look at, and as we mentioned above, the rear facing speaker wasn't all that great. Google's fixed everything users didn't like on preview Nexus devices, and delivered an excellent device for 2014.
Release Date
We'll get into specs and everything that makes this phone better in a moment, because everyone that's looking to buy a phone probably wants to know when they can expect the new Nexus 6 to arrive. It was announced last week, pre-orders go live next week, and it should be available in early November.
The Nexus 6 is going to be available on AT&T, T-Mobile, Sprint, US Cellular and… Verizon. Yes, all five major US carriers will offer the Nexus 6, which is a first for any Nexus device. The Nexus 4 was only available on a few carriers, unofficially, as well as from T-Mobile. There was no Nexus 4 for Verizon or US Cellular. The Nexus 6 though, is available from all either on contract, or outright. However, the price is way more than many expected, but is still cheaper than other flagship phablets, but more on that below.
T-Mobile states the Nexus 6 will be available on its shelves come November 12th, and we saw pre-order pages on AT&T accidentally go live early too. While we can't confirm any other dates, it's highly plausible most US carriers will offer it come November 12th, if not slightly before or after.
Read: Nexus 6 Release Date Breakdown
It's also likely the completely unlocked Nexus 6 will be sold from the Google Play Store a few days ahead of carriers, but it's too early to tell. We'll know more in the coming weeks as the Nexus 6 release date approaches. A few reports suggest pre-orders will open for the Nexus 6 on October 29th.
This all said, finding a Nexus 4 will only be possible buying used, so this is more for upgraders, rather than comparing the two. If you're considering a new Nexus device you'll want to compare the Nexus 5 to the Nexus 6.
Specs
The Nexus 6 is the biggest, fastest, and best Nexus smartphone to date. It's also huge. It has all the top-tier specs users come to expect, rather than slightly undercutting the competition and offering a lower price. It's on par with the Note 4, Galaxy S5, and all other manufactures this year, if not beating many in multiple key areas. While specs aren't everything, some like the cold hard numbers, so here they are.
Nexus 6 Specs

5.96-inch 2560 x 1440 Quad-HD Display
2.7 GHz Quad-Core Snapdragon 805 processor with 3GB of RAM
32GB/64GB internal storage
Android 5.0 Lollipop (64-bit support)
13 Megapixel camera with OIS, 2 MP front camera (4k video capture)
Dual Ring Flash similar to Moto X
Dual Front-facing speakers
Aluminum frame around device like the new Moto X 2014
3,220 mAh battery
Nexus 4 Specs
4.7-inch 1280 x 768 (720p) HD display
1.5 GHz Quad-core Snapdragon S4 with 2GB of RAM
8/16GB storage
Android 4.4.4 KitKat (will receive Android 5.0 Lollipop in November/December)
8 Megapixel camera, LED flash, 1.3 front camera
Rear facing speaker
Glass panel on back
Wireless charging
2100 mAh battery
The Nexus 6 is a significant upgrade from almost any device released in 2013, and a huge upgrade for anyone coming from a device in 2012 like the Nexus 4. Everything is better. From the screen, design, camera, specs, hardware, internal storage, and especially the battery.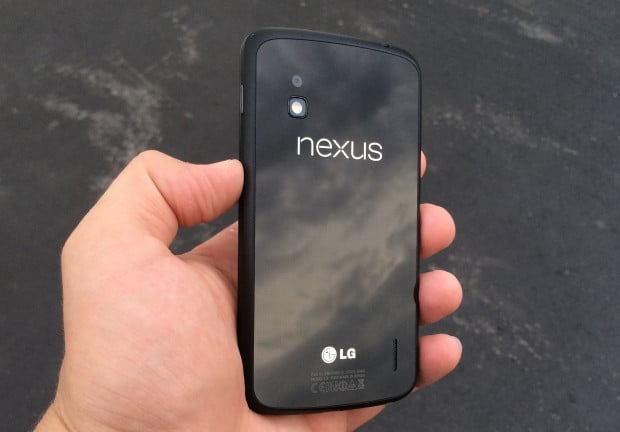 Nexus devices in the past were notorious for having poor battery life, and the Nexus 4 was a prime example, even though it didn't have 4G LTE speeds to drain it quickly. The Nexus 6 has a huge screen that could impact battery life, but the large 3,220 mAh battery should keep it lasting for far longer than any aging Nexus 4.
Camera
One major flaw of the Nexus 4 and 5 was the camera. The Nexus 4 had an average 8MP shooter and the Nexus 5 added image stabilization that helped, a little. The 8MP shooter in the iPhone blows it away, and most 13 and 16 megapixel Android phones these days do too.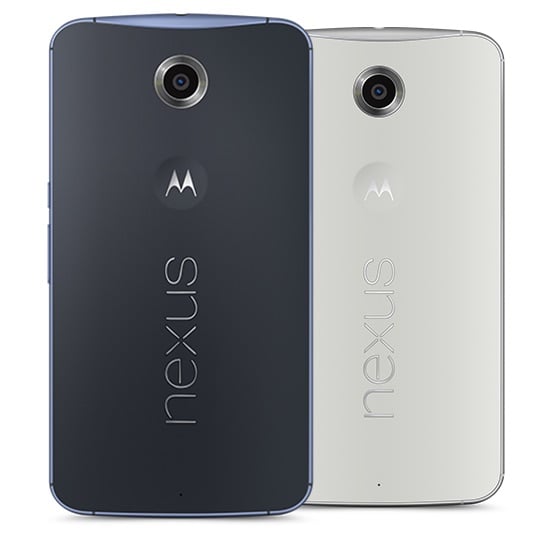 The new Nexus 6 employs a 13 megapixel camera with optical image stabilization and a new Dual-LED ring flash system. It should be much improved from last year, and leaps and bounds better than the Nexus 4's camera. If the camera is something you consider heavily while buying a new phone, the Nexus 6 will be a better move over the old and getting older Nexus 4.
Software
Software is something that shouldn't matter too much, but is still worth mentioning. The Nexus 4 debuted with Android 4.2 Jelly Bean, but it runs the latest Android 4.4.4 KitKat now, and will get Android 5.0 Lollipop soon. The Nexus 5 runs an early developer preview of Android 5.0 now, but the final and complete version will debut on the Nexus 9 tablet on November 3rd, and then the Nexus 6 a week later.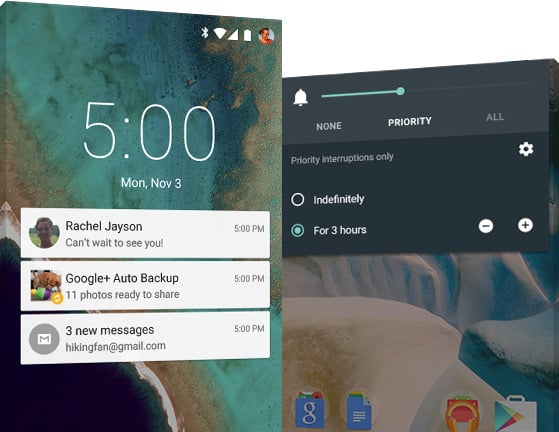 That being said, here's everything you need to know about Android 5.0 Lollipop. Google's added tons of changes from improved security, animations and effects for a more natural and visual response to touches, 64-bit computing support, guest mode for smartphones and tablets, redesigned the entire interface and notification system, and much much more.
The Nexus 6 and Nexus 9 will be the first devices to run the new Android 5.0 Lollipop release, but the Nexus 4 won't be too far behind as Google will update all recent Nexus devices to Android 5.0 Lollipop. Last week Google announced the Nexus 4, Nexus 5, both Nexus 7′s, Nexus 10 and Google Play edition devices will be updated to Android 5.0 Lollipop "in the next few weeks". This means the Nexus 4 may actually get the update before the Nexus 6 hits shelves on or around November 12th.
The Nexus 4 was initially left off the update plans on Google's main blog post about Android 5.0 Lollipop, but it was quickly edited and added to the list. It will receive the update, but expect the Nexus 5 and Nexus 7 to see it first, with the Nexus 4 and Nexus 10 being last on the priority list.
Software will be nearly the same on these two phones, so this shouldn't be much of a concern for potential buyers. However, the Nexus 6 will have proprietary features thanks to Moto. Double tap will wake up the screen, as well as other ambient screen features seen from recent Moto smartphones.
Price
Last but certainly not least is the price. The Nexus 4 was priced extremely low and was the first Nexus device to deliver a quality device for cheap, and from the Play Store. The Samsung Galaxy Nexus was expensive (for 2011) and the Nexus 4 was our first taste of an impressive yet cheap smartphone. That isn't the case with the Nexus 6. It's expensive and Google went all out. We have one of the biggest and best displays around, the fastest quad-core processor on the market, dual front facing speakers, and a massive battery. Previous Nexus devices had paired down parts to keep the price low, but Google didn't take that route with the Nexus 6.
The Nexus 4 debuted for $299 for the 8GB model, and $349 for the 16GB version, and was dropped to $199 and $249 in August of last year.
The Nexus 6 will be $649 for the 32GB model, and $699 for the 64GB option. Yes, this is expensive. However, the Moto X is $499 and is very similar, but doesn't have nearly the same specs, a smaller screen, and a smaller battery. It's expensive in terms of "Nexus pricing" but is still aggressively priced compared to the competition. Take into account extra storage, bigger screen and battery, top tier specs and more, and it's priced quite fair, even if Nexus fans were hoping for a miracle.
As a comparison, the iPhone 6 Plus 64GB is $849 off contract, and even Samsung's new 5.7-inch Galaxy Note 4 is between $750-$829 depending on region or carrier.
This means that while many expected the Nexus 6 to be priced lower, naturally given the specs, it can't be. It has a bigger and higher resolution display than both the devices we just mentioned, all for at least $100 cheaper. You can probably get a used Nexus 4 under $150 these days, so that's an idea.
Final Thoughts
Giving out advice for buying a new phone can be hard, as everyone has different needs, wants, preferences or budgets. That being said, the information above is what separates the all-new Moto Nexus 6 from the LG-made Nexus 4 that was released almost two years ago.
We're not trying to convince anyone which to buy, as the Nexus 6 is the obvious choice. Instead, if you've been enjoying the Nexus 4 over the past two years and are looking for a replacement, the Nexus 6 is a viable option and one worth heavily considering. That said, check out an iPhone 6 Plus or Note 4 in stores to see if a device of that size is something you'd enjoy. You might need bigger pockets to buy it, and to carry it around.

This article may contain affiliate links. Click here for more details.