Nexus 7 and Nexus 5X Deals Continue for the Holidays
With Black Friday over and holiday shopping in full swing, buyers are likely looking for some great last minute deals for smartphones and tablets. Today we have two. The Nexus 7 has dropped to an insane low, being only $99 with a case and free shipping, and Google's flagship Nexus 5X smartphone is also seeing huge savings for a limited time.
Lots of smartphones and tablets went on sale for Black Friday, including Google's Nexus 7 from 2013, and even its brand new Nexus 5X that was announced in September and released at the end of October. However, both deals are still available, and one is lower than it has ever been. These are two Android deals shoppers won't want to miss.
Read: Nexus 7 (2013) Review
There are countless cheap Android tablets like the $90 RCA from Walmart that's still floating around, and other cheap smartphones, but none deliver the quality or the latest version of Android as Google's own Nexus smartphones and tablets. That's why Google's Nexus devices always make are must buy or best smartphone lists, and two of them are at an all-time low for the holidays.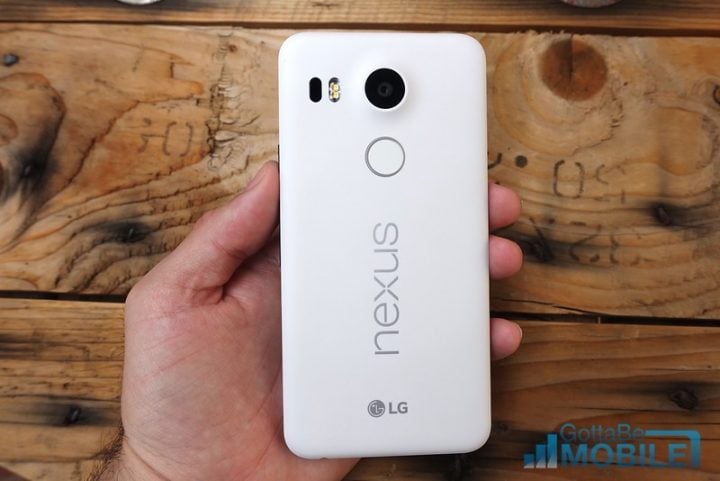 If you're still looking for a great deal on some of the best Android smartphones or tablets, these two are at the top of the list, and are worth considering.
Nexus 7 for $99
First up is Google's second tablet ever released, which is the 2nd Gen Nexus 7 from 2013. While that may sound like an old an outdated tablet, it was hands-down the best Android tablet released in 2013. Since then, tablets aren't much better, and instead are worse in an effort to offer the lowest price to buyers.
The 2013 Nexus 7 is on sale this week for only $99 from Groupon. It comes with a free case in four different colors, free shipping, and originally retailed for $219. Making it over 50% off. It might be old, but it's one of the only tablets running Google's latest release of Android 6.0.1 Marshmallow, and still has some of the best specs and features of any 7-inch tablet on the market today. Even ones released in 2015.
Google's Nexus 7 (2013) on sale above comes with a 7-inch 1920 x 1200 Full HD IPS display, which looks way better than any other budget tablet released in 2015. It runs on a powerful quad-core processor with 2GB of RAM, and 16GB of storage for apps and games. Users will enjoy a 5 megapixel rear and 1.2 front camera setup, over 10 hours of battery life, and what's still considered the best 7-inch Android tablet available today if you ask me.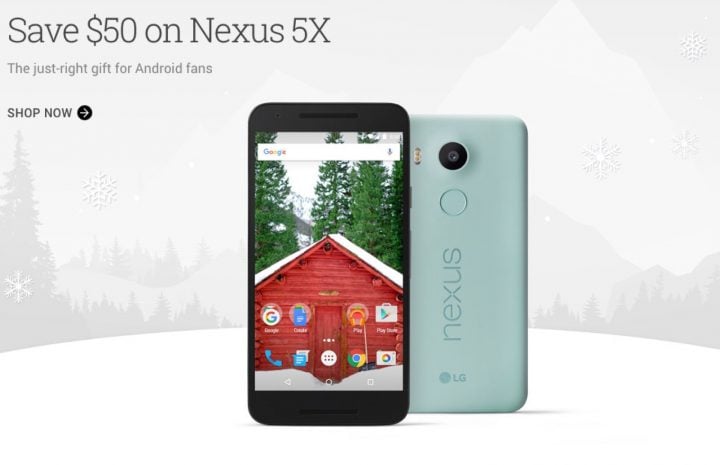 Nexus 5X for $329 ($50 Off)
But that's not all. Those who already have a Nexus 7 or an Android tablet and instead need a new smartphone, we have another excellent deal to share.
Google's brand new Nexus 5X that's barely over a month old went on sale for Black Friday, and the deal is still live directly from Google, at Best Buy, and even Amazon or B&H Photo are offering the well-rounded smartphone at a huge discount. It originally retails for $379 or $429, but right now both the 16 and 32GB models are $50 off, making it just $329 for the 16GB, or $379 for the 32GB. Essentially doubling storage for free.
Read: Google Nexus 5X Review
The Nexus 5X has a beautiful 5-inch 1920 x 1080p HD display, a powerful 6-core processor with 2GB of RAM, 16 or 32GB of storage, and an excellent 12.3 megapixel camera. It may not be as high as the Galaxy S6 or LG G4 16 megapixel camera, but it's just as good.
Google's latest Nexus 5X also runs the just released Android 6.0.1 Marshmallow software that started rolling out earlier this week. Meaning it has the absolute latest software full of new features, improved battery life, Google Now on Tap, hands-free voice controls and security changes for December.
The Nexus 7 is only available in black but comes with some optional cases for added protection or styling, and the Nexus 5X can be found in Black, White, or Mint Blue from almost all retailers for the same low price. These deals wont' last long, especially the Nexus 7 for only $99, which is the lowest we've ever seen it, so act fast and get one of the best Android smartphones or tablets now.