Nexus 7 Deals Continue as Nexus 8 Rumors Swirl
Multiple rumors suggest that Google has a new Nexus tablet coming later this year, a device that's being called the Nexus 8 or Nexus 9. While the details still are unclear, more information has emerged this week potentially confirming all the rumors we've heard thus far. As consumers wait for a new Nexus 8 or Nexus 9 however, the Nexus 7 deals continue to arrive.
Not only has the Nexus 7 nearly vanished from the Google Play Store, but more and more deals keep offering the impressive Android tablet at a discount. A few weeks ago a deal from Newegg delivered the tablet to buyers for just $102, and today it's back on eBay Daily Deals for just $129 with a free case.
Read: Nexus 9 Release Date and Rumors Confirmed
While deals are expected for an aging and year old tablet like the Nexus 7, they could be a sign that the rumored (and now confirmed from the link above) Nexus 9 is coming sometime soon. We've continued to hear bits and pieces of news, but this week the all-new Google Nexus 9 made by HTC has reportedly been confirmed.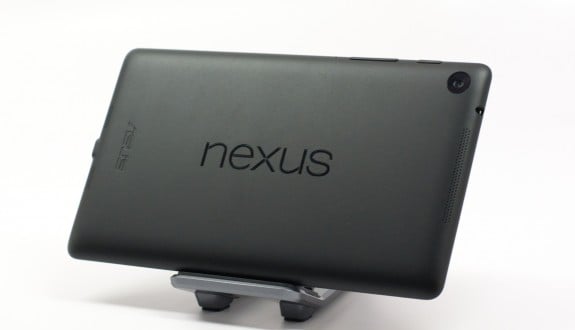 Google's Nexus 7 from last year is now more than a year old, and prospective buyers are looking for Nexus 7 deals, or waiting to get the new Nexus 8 or Nexus 9 once it's released. Below is the current Nexus 7 deal going on right now, as well as more details surrounding the incoming Nexus tablet.
Currently the latest Nexus 7 (2013) is available from eBay daily deals for only $129, and that includes a free leather case. This isn't the first time we've seen this deal, as it's for a factory refurbished unit. However, this is a great price for what's still arguably one of the better Android tablets available in the 7-inch form factor. It retails for $229 new, so this is a pretty good deal, not to mention includes free shipping. This may be the last 7-inch tablet released by Google, as rumor has it the next model will sport an 8.9-inch HD display.
Speaking of new Nexus tablets, more details have emerged this week that could be extremely important for potential buyers of the device linked to above. And those are reports that the HTC-made Nexus 9 with a quad-core NVIDIA K1 processor have been confirmed. NVIDIA themselves (who makes the processor powering the device) revealed the "HTC Nexus 9" this week in some court documents for an ongoing lawsuit with Samsung and Qualcomm over their graphics technology.
Late last month the HTC tablet was spotted clearing some certifications, like the WiFi certification, and we can expect some FCC filings and other similar reports to surface soon as well. This doesn't confirm the HTC device is a Nexus tablet, but all reports and rumors thus far point to exactly that.
The leak from NVIDIA is a big one, as until now we've only seen some leaked benchmarks and heard from a few somewhat reliably sources that a new Nexus tablet was coming. This is the first concrete set of details, and the best part is the release date. NVIDIA stated the HTC Nexus 9 would be released inside of Q3 2014, which means before the end of September. That's most likely slightly off, as we'd be seeing more reports if this was indeed the case. However, this could mean an early October release of  both the new Nexus 9, and Android 4.5 or 5.o, the L release.
Read: Nexus 7 Vanishes Amidst Nexus 8 Rumors
So what can we expect from this "HTC Nexus 9" tablet that was reportedly confirmed by NVIDIA this week? We're not sure yet, but below are the details we've heard time and time again.
Nexus 9 Specs (Rumored)
8.9-inch 2048 x 1440 Full HD display (4:3 aspect ratio)
NVIDIA Tegra K1 Quad-core processor with 2GB of RAM (64-bit)
16/32GB storage configurations
Android 4.5 or 5.0 (L Release)
8 Megapixel OIS rear and 3 MP front camera
Zero-gap aluminum unibody design
HTC signature front facing speakers
Google has used new products to launch the next version of Android at the same time, which is likely the case here. Shown off and announced back in June was the next version of Android, called the L release for now, and Google simply stated it would be coming later this fall.
Summer is winding down and the fourth quarter of the year about to start (October 1st) we can expect additional news regarding the HTC Nexus 9, and the next version of Android to start appearing frequently. If Google and HTC do release a Nexus 9 tablet, it will be running the new Android L release.
With the current Nexus 7 unavailable and sold out for months on end (except a few models on the Play Store) is a new Nexus 9 finally coming soon? If the news we've received this week is anything to go by, we'll be seeing more of Google's new Nexus tablet sooner rather than later.