The new Nexus 7 for 2013 delivers a good Android tablet experience with a brilliant 1080P HD display, quick performance and a thinner, better looking design than last year's model.
The Nexus 7 (2013) arrived in July in WiFi, and the Nexus 7 LTE model should arrive soon, offering users the option of connecting on Verizon, T-Mobile and AT&T. Users can choose from 16GB and 32GB storage options, and there is no expandable storage.
Google partnered with ASUS to design the Nexus 7 again, offering a second generation feel to this popular Android tablet, that is better equipped to compete with the iPad mini and other small tablets like the Kindle Fire HD.
With all of these upgrades the new Nexus 7 price jumps to $229, but it remains one of the cheapest tablet options we can recommend for power users and average users alike.
Pros

Beautiful 1080P HD display
Good performance and audio
Thinner design

Cons

No Micro SD card
Still some Android app issues
Parental controls still lag behind Kindle Fire
Nexus 7 (2013) | $229

Nexus 7 Review Guide

Related Nexus 7 Review Articles

Buy the Nexus 7
Read on to find out how the Nexus 7 performs.
Nexus 7 Video Review (2013)
The Nexus 7 review video below showcases the new Nexus 7 for 2013, covering our Nexus 7 review with feature highlights, an overview of the Android 4.3 software update and a comparison of the Nexus 7 (2013) vs. Nexus 7 to show the differences in design and size.
Design
The design of the new Nexus 7 is a major step up from the dimpled texture on the original Nexus 7. A soft matte-black finish is still easy to grip, but feels more like a premium device.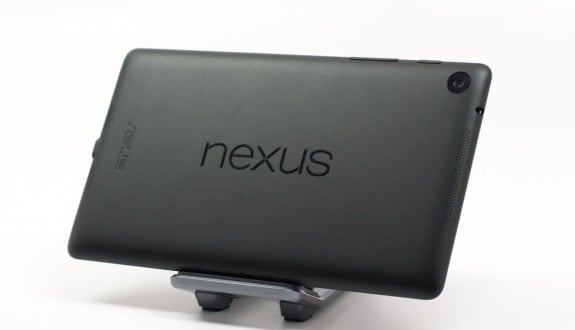 it also helps that the new Nexus 7 is thinner and lighter than the original. Both of these factors are most noticeable when holding the Nexus 7 for long periods of reading, web browsing and movie watching. But they are also nice characteristics for portability. The Nexus 7 is narrower than the iPad mini, which makes it a little easier to stick in the pocket of a loose pair of jeans or shorts for a quick trip to the cafe.
The Nexus 7 (2013) design is a major step forward and manages to deliver a very portable and well-built tablet at an affordable price that includes better sound, a rear facing camera and other enhancements not found on the previous version.
Nexus 7 Display
The Nexus 7 (2013) display is the showstopper with a 1920 x 1200 resolution that translates into about 323 pixels per inch. The more pixels per inch, the better photos, videos and text look on the display because the pixels are not large enough for user to make them out.
The Nexus 7 display is higher resolution than the iPad mini, which did not ship with a Retina Display. While browsing the web with the iPad mini there are times when I can make out the pixels in text, which I could not see on the Nexus 7. For some users this could be a sticking point, but for most users it is worth comparing the two displays in person at a retail store before picking a winner as the iPad mini display is still good enough to compete.
During the last several weeks I watched Die Hard: A Good Day to Die Hard in HD on the new Nexus 7 and various other shows on Netflix and on Google Play. The quality of movies on the screen is good, with dark blacks and good viewing angles. On Android 4.3, Netflix can stream in 1080P for films and TV episodes where it is available. I couldn't test every movie or video I wanted on the Display as HBO Go remains not compatible with the Nexus 7 (2013) tablet at this time.
Nexus 7 Performance
The new Nexus 7 is snappier than the Nexus 7 from 2012, thanks to a new 1.5GHz Quad Core Snapdragon S4 processor. This processor and other internals combine to deliver an Android 4.3 experience that is fast when it comes to everyday tasks and good-looking when it comes time to play a game.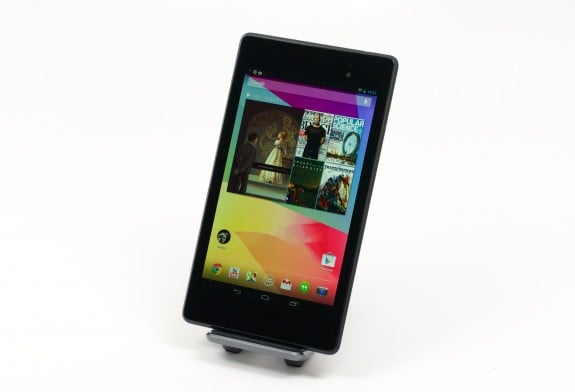 Navigating around the Nexus 7 (2013) feels smooth and without lags common on cheaper Android tablets. The screen rotates between portrait and landscape quickly and touches register almost instantly to launch the app launcher and to launch an app. Multitasking is quick to open and show running apps, but takes slightly longer to switch between some apps.
Google added two speakers for a stereo sound experience and partnered with Fraunhofer, the team behind the MP3, to deliver a better sound experience with virtual surround sound. While it can't compare to a home theater system with 7 speakers around the room, it does a good job of giving users the feeling of virtual surround sound.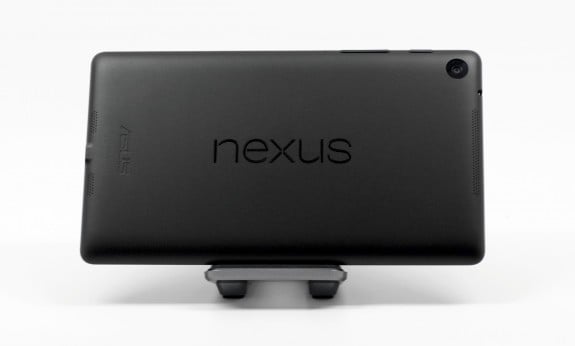 When it comes to playing music and movies, headphones are still my choice on the Nexus 7, but the dual speakers are an improvement. There is not much low-end, but overall sound quality is good. I wish the Nexus 7 (2013) could deliver louder sound when it comes to music and movies.
Nexus 7 (2013) Battery Life
In our early tests it appeared that the new Nexus 7 battery did not last as long as the old Nexus 7, but in a benchmarking test that simulates web browsing and one that simulates watching a movie, the New nexus 7 compared favorably delivering slightly longer time watching movies and almost an hour and a half of longer web browsing.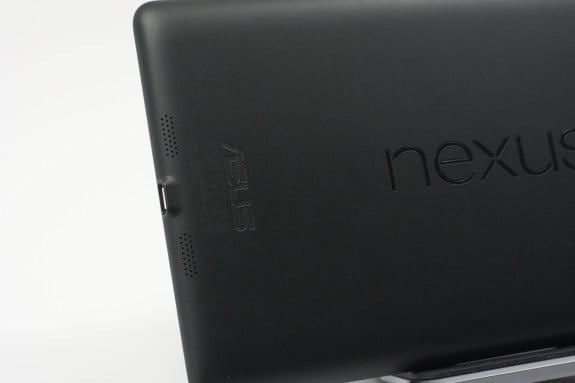 The new Nexus 7 is also better at managing battery life during periods of inactivity. I routinely would pick up the old Nexus 7 after not touching it for two days and it would be dead, but the Nexus 7 (2013) is more efficient at sleeping and being ready to go when I need it. The new Nexus 7 is more in line with the iPad mini now that it manages power better.
Google packed in a QI wireless charger inside the Nexus 7 (2013) model. There is no official Nexus 7 wireless charger available yet, but it works on the Nexus 4 wireless charger in landscape mode. When you can't use a wireless charger, the Nexus 7 relies on the standard Micro USB connector to charge.
Nexus 7 (2013) Cameras
Google and Asus stepped up the cameras on the Nexus 7 for 2013, adding a 5MP rear facing camera to the Nexus 7. The original model only included a front facing camera. While this is not designed to replace a point and shoot, it does allow users to scan a document, share what they see on a Google Hangout and more.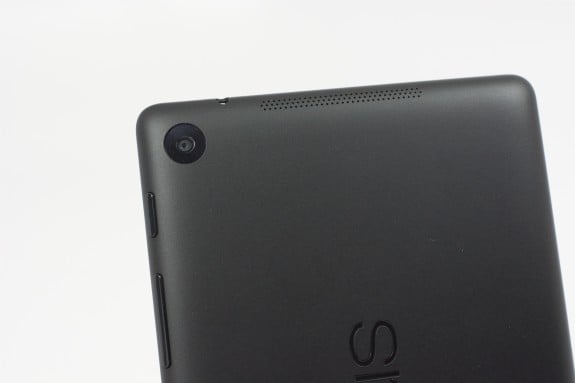 Check out the photos and videos below to see what the Nexus 7 (2013) rear and front facing cameras are capable of.
Nexus 7 Sample Video
Nexus 7 Front Facing Camera Sample Video
Nexus 7 Photo Samples
Software and Apps
The Nexus 7 (2013) comes with Android 4.3 on board, which means users can enjoy 1080P HD video streaming, better support for graphically rich games and multiple profiles that include parental restrictions.
Overall the software experience on the Nexus 7 is good thanks to it being a Nexus device. This means fast updates to new versions of Android and no pre-installed apps that cannot be removed. The Android 4.3 video overview below highlights the new software features on the Nexus 7 (2013).
App selection and compatibility remains an issue with the Nexus 7 and Android tablets in general. While the overall quality of Android tablet apps is up, and we are seeing more, it still feels like the iPad and iPad mini offer a better overall selection to the user.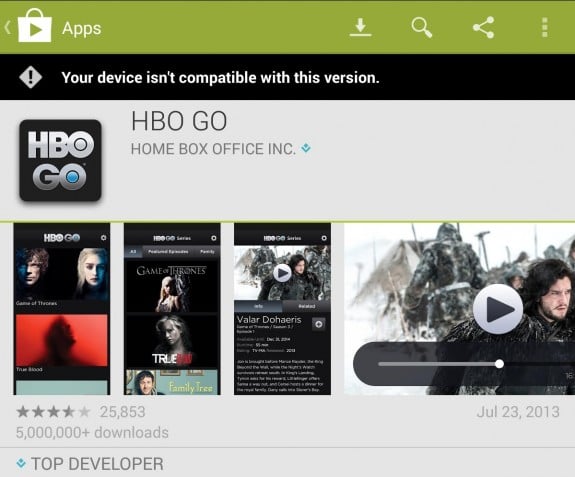 Another issue is that popular apps like HBO Go and others do not work on the Nexus 7 (2013) or original Nexus 7 after the Android 4.3 update. The app developers will need to update the app to let them work, which should happen eventually, but is an annoying trend on Android devices.
Some users are experiencing issues with GPS not working correctly, but that did not appear on my test unit. Like many others I cannot use a Bluetooth keyboard with the Nexus 7 on Android 4.3 at this time.
Is the Nexus 7 (2013) Worth It?
The Nexus 7 (2013) is one of the best cheap Android tablets you can buy, and one of a handful worth considering in the $200 to $250 price range. Asus and Google don't skimp on the important features like many budget tablets do, which adds up to a great experience that gets fast updates and comes with access to the Google Play Store.
Shoppers looking for a new tablet should definitely keep the Nexus 7 (2013) in mind while comparing Android tablets, and know that it is well worth the price difference between it and the numerous off-brand Android tablets sold during Black Friday and the holiday season at stores like CVS, Walgreens and Kohl's.
Because there is no expandable storage, the 32GB Nexus 7 is a better option for users that plan to play a lot of games or who will want to keep a lot of HD movies downloaded for playback offline.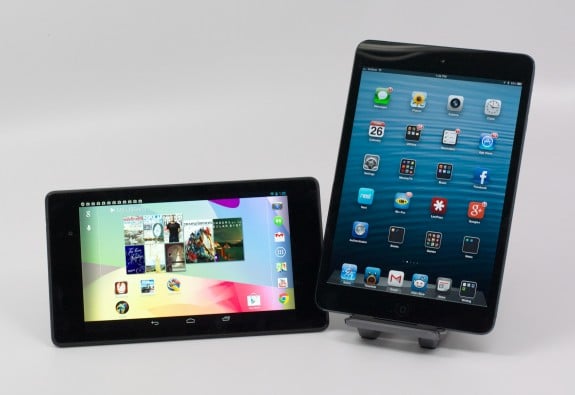 The Nexus 7  (2013) and iPad mini are both good tablets with unique strengths and weaknesses. Users that already have an iPhone should consider the additional $100 cost to buy an iPad mini, as they can buy apps once and use them on the tablet and iPhone. Android users generally have the same benefit, so the value of the tablet could be dictated by the phone in your pocket.
Ultimately, the Nexus 7 (2013) is a very good tablet that can compete with the iPad mini, but some users will still find the $100 premium for an Apple tablet worth paying.
Nexus 7 (2013) Gallery