Nexus 8 Details Emerge in Huge Leak
Rumors of a new Google Nexus 8 tablet have been swirling for months now, combined with reports that the popular smartphone manufacturer HTC may be building it, not ASUS or LG like previous devices. With Google's annual developer event set to kick off this week, new details are starting to arrive regarding the Nexus 8.
This weekend a major leak has potentially revealed Google's plans ahead of the event. Giving us the first solid specs and a rendered image of the all-new Nexus 9. Yes, the leaksters at AndroidPolice are calling it the Nexus 9 considering their details suggest an 8.9-inch screen on the next Nexus tablet.
Read: Nexus 8 Rumors Continue
For months we've been following leaks regarding the new Nexus 8, which is still possibly the name of the new tablet, and now we have some of the most concrete details we've seen yet. Google's first Nexus tablet debuted two years ago at Google I/O, then the new Nexus 7 last year a few weeks after the same developer event, and Google I/O 2014 is set to kick off this week. So we're potentially just days or weeks away from a new Nexus 8 or Nexus 9 announcement.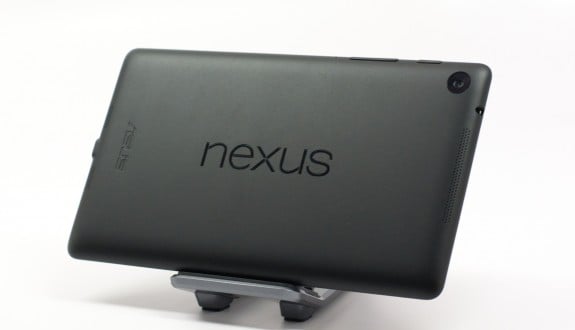 Back in May, Google's own code revealed the company could be working with HTC on a new Nexus device, one running an extremely powerful new NVIDIA K1 quad-core processor unlike anything else available today. Since then, rumors and reports continue to emerge and pile up that Google, HTC, and NVIDIA have an impressive iPad competitor in the works.
So what do we now know that's new? Tons of details as well as potentially the full spec list, and an image of the device leaked this weekend. The image below is a render made by the leaksters, based off of marketing materials they received regarding the new Nexus 9.
Currently we don't know if a new Nexus smartphone will ever be announced, as reports are suggesting the Nexus smartphone lineup is dead, but the tablet range should continue with this new Nexus 9 hitting the streets sometime this summer.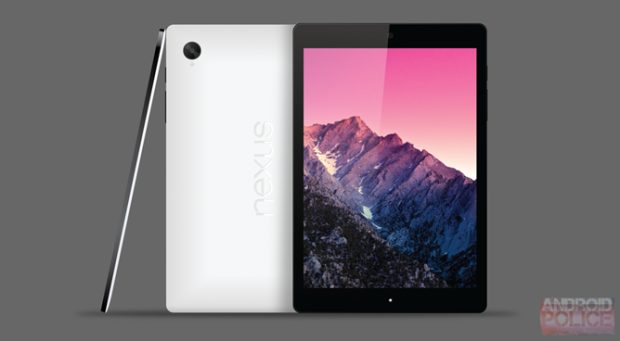 According to AndroidPolice the new Nexus 9 will be extremely impressive. The details reportedly confirm an 8.9-inch 2048 x 1440 full HD display with a 4:3 aspect ratio. Meaning it will be wider like the iPad Mini Retina or iPad Air, rather long and skinny like most Android tablets. The new Nexus 9 will reportedly be powered by the brand new NVIDIA K1 quad-core (192 processing cores) 64-bit mobile processor with 2GB of RAM, and come with both 16 and 32GB storage configurations, just like previous Nexus tablets.
Buyers can hopefully expect an 8 megapixel rear camera with optical image stabilization, a 3 megapixel front camera for selfies, and most importantly stereo front-facing speakers, just like the HTC One M8 smartphone. However, we don't see those speakers anywhere in the leaked press render.
The final detail that is brand new and a change for the Nexus lineup is the build quality. Rather than lightweight plastics of the Nexus 5 and 7, the new Nexus 9 will reportedly have a zero-gap aluminum unibody design. Yes, this sounds like a premium tablet sized perfectly at 8.9-inches to take on the 7.9-inch iPad Mini and 10-inch iPad Air.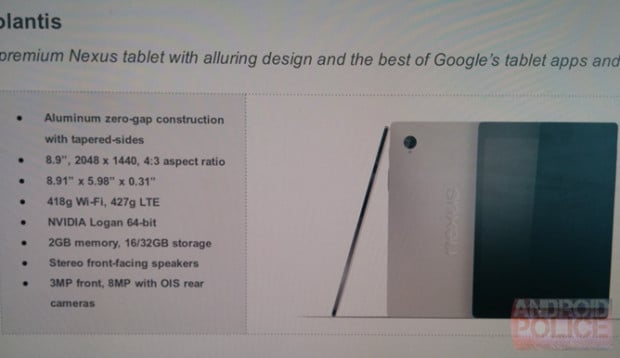 Right out of the gate users will notice the extremely similar overall curves and design approach of previous Nexus devices, right down to the large NEXUS branding on the rear and LED notification light on the bottom middle front. However, this is an entirely different Nexus device if the rumors are accurate. Offering an aluminum design, a 64-bit quad-core processor capable of next-level gaming and performance, and finally a tablet with front facing speakers.
There is some bad news however, and that is regarding the price. While we'd still consider it extremely affordable, all these new enhancements will make this slightly more expensive than previous Nexus devices. The Nexus 4, 5, and 7 all bank on being affordable. According to the report the 16GB Nexus 9 will be $399, 32GB will be $499, and a 4G LTE variant is also in the works.
Read: 7 Exciting Nexus 8 Rumors
As many Android users know, the next major version of Google's OS will be the "L" update. Following the alphabet for releases, L will follow Android 4.4 KitKat which was released back in October of 2013. This latest report suggests that even though all previous Nexus tablets were revealed around Google I/O, the new Nexus 9 detailed above may not arrive until Android 4.5 (or 5.0) L sometime later this year in Q4. That being said, earlier rumors claim the Nexus 8 will launch in Q3, meaning before the end of September.
This is certainly an interesting shake up for Android and Nexus tablet users, and we'll be on the lookout for additional details.