Nexus 9 Photo Leaks as Release Nears
Over the past few months more rumors have continued to emerge suggesting Google has two new devices in the works that will debut running the all new Android L release. Of course one is the new Nexus 6 smartphone, and the second is an all-new 9-inch tablet called the Nexus 9, and today we may have received our first actual photo of the new tablet.
While rumors have been swirling since this summer, all the leaks are starting to take shape this month. From confirmations of the Nexus 9 (not a Nexus 8) and even a potential release date. Today though, we got our first purported image of the new Nexus 9, and a few new details.
Read: Nexus 8 and Android L Release Date Rumored
Initial rumors were calling it a Nexus 8, but at this point all signs are pointing to an HTC Nexus 9 instead. The first leak arrived in June, suggesting Google would drop ASUS, who made the last two Nexus tablets, and instead offer a bigger Nexus 9 made by HTC. This week that device passed through the FCC, but read on for more details from the latest reports and new leaks.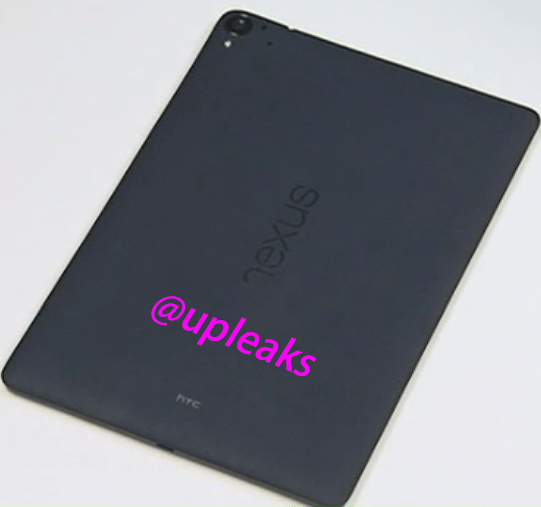 The original rumor arrived from AndroidPolice months ago, and slowly but surely all their initial details (or most of them) have been confirmed by other sources. While nothing is official until Google announces it, above is what we're hearing will be the all-new HTC Nexus 9 tablet coming in a few weeks.
A month later another leak surfaced claiming HTC is working on two new tablets, and that one will be Google's next Nexus 9, rather than another Nexus 7 made by ASUS. This new tablet should debut with Android L on board and a completely new look and feel. Something different from previous tablets released by Google. So what's new today? A few things.
For starters, a new leakster on Twitter @upleaks has potentially revealed the first photo of the device, as well as details regarding the build quality. This is the first image and not a render, but the validity of the photo is certainly in question. We're not sure what to make of it, but it very well could be real. He says the Nexus 9 codename is "T1" and had this to say about it:
https://twitter.com/upleaks/status/519032362206638080
This suggests initial rumors of an aluminum Nexus 9 were wrong, and instead it will have a familiar soft-touch matte black plastic design similar to the Nexus 5 and Nexus 7 devices. Which makes sense given Google would want to keep their "Nexus brand" on a similar path. That aside, here's the other specs based on previous rumors.
Nexus 9 Specs (Rumored)
8.9-inch 2048 x 1440 Full HD display (4:3 aspect ratio)
NVIDIA Tegra K1 Quad-core processor with 2GB of RAM (64-bit)
16/32GB storage configurations
Android 4.5 or 5.0 (L Release)
8 Megapixel OIS rear and 3 MP front camera
Zero-gap aluminum unibody design (now reportedly plastic)
HTC signature front facing speakers
more
The image above certainly shows a larger Nexus tablet made by HTC, some sensors and a flash up top near the 8 megapixel camera with optical image stabilization, and no speakers on the back. This means that as expected, we will hopefully see front-facing speakers on the new Nexus 9 tablet.
As a recap, the Nexus 9 release date and rumors were all essentially confirmed last month with NVIDIA leaked the details in some court documents, then quickly edited them out.
To add even more fuel to the Nexus 9 release date and rumor mill are a few reports suggesting the Nexus 6, Nexus 9, and Android L will all debut on October 15-16th, and be released on November 1st. This has been mentioned by multiple sources thus far, and if true we only have a few weeks before they become official. If this is indeed the Nexus 9 and it passed through the FCC last week, a release is quickly approaching. We'll update once we hear, see, or learn any further details.