Nexus 9 Release Date and Rumors Confirmed
Rumors continue to swirl suggesting Google has a new Nexus 8 or Nexus 9 tablet in the works, and today we may have received our first official confirmation of an HTC-made Google Nexus 9. Not only that, but a new leak is reportedly outing the Nexus 9 release date.
While these rumors initially started out as a Nexus 8, more and more reports and rumors are pointing to a Nexus 9 release in the next few months. Last year Google announced the new Nexus 7 (2013) shortly after Google I/O event in May, and many expected the same this year, which sadly never arrived.
Read: Nexus 8 Rumored Along with Two New HTC Tablets
Back in July the rumors started to emerge at a growing pace, but have since slowed down with all the Android L news, updates to Android 4.4.4 KitKat, and the purported Nexus 6 smartphone. However, today a huge leak has arrived which potentially confirms all the rumors we've heard thus far.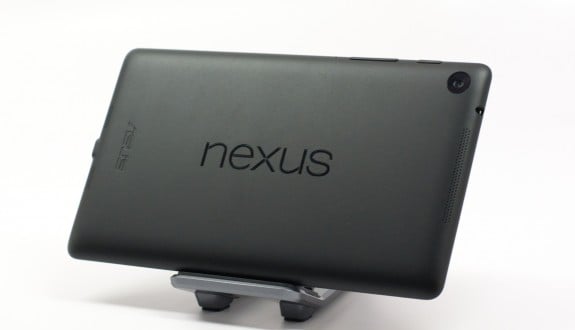 Without getting into the details too much, the popular processor and gaming giant NVIDIA is suing both Qualcomm and Samsung for infringing on their GPU (graphics processors) technology. NVIDIA has been a leader in the gaming and visual marketplace for years, mainstream and business class, and now are going after companies they claim are infringing on their technology. Tech that cost billions and billions to research and develop.
According to Brightsideofnews, NVIDIA's own legal documents regarding the lawsuit, which are available to the public as we speak, outs the Nexus 9 and confirms all the rumors we've heard thus far.
The 65 page legal document detailing the lawsuit from NVIDIA against Qualcomm and Samsung reportedly shares some key details that weren't supposed to be made public. While the leakster didn't reveal exactly what page says this information, here's what they've gathered.
While talking about NVIDIA's newest and most powerful mobile graphics chip to date, the NVIDIA Tegra K1, they revealed the Nexus 9. The document specifically says, "The HTC Nexus 9, expected in the third quarter of 2014, is also expected to use the Tegra K1" while referencing a few of the many mobile devices that employs NVIDIA technology.
For months we've been hearing a new 8.9-inch Nexus tablet was in the works, being developed by Google and HTC, and could potentially arrive sometime later this year alongside the Android L release. If the statement that is clearly worded above is accurate, NVIDIA just confirmed the HTC Nexus 9 is coming in the 3rd quarter of this year. The 3rd quarter ends in September, and October-December is technically Q4.
We don't expect an announcement and release all inside of the next month, but it's highly likely given the details we've just gathered this afternoon.
Back in June a huge leak revealed the HTC Nexus tablet for the first time, codenamed Volantis, and now it sounds like the new tablet could be coming sooner rather than later.
Nexus 9 Specs (Rumored)
8.9-inch 2048 x 1440 Full HD display (4:3 aspect ratio)
NVIDIA Tegra K1 Quad-core processor with 2GB of RAM (64-bit)
16/32GB storage configurations
Android 4.5 or 5.0 (L Release)
8 Megapixel OIS rear and 3 MP front camera
Zero-gap aluminum unibody design
HTC signature front facing speakers
Again this is just a rumor from months ago, but we've seen similar reports and benchmarks surface more and more over the past few months. Lately Nexus 8 or Nexus 9 news and rumors have been quiet, but if a September or early October release is indeed coming soon, we'll start to see and hear more news very soon.
If the details revealed this week by NVIDIA are accurate, then all we need to know now is the Nexus 9 release date and price. The previous Nexus 7 and Nexus 7 (2013) both arrived at a wallet-friendly prices and were extremely popular. The Nexus 7 is $229 on the Google Play Store, or $269 for the 32GB variant, and have both been sold out for months.
With the current Nexus 7 unavailable and sold out for months on end, is a new Nexus 9 finally coming soon? If the news we've received this week is anything to go by, we'll be seeing more of Google's new Nexus tablet sooner rather than later.
To be clear, we've yet to skim through the 65 page legal documents for this exact subject line, but will report back the moment we have more details.

As an Amazon Associate I earn from qualifying purchases.