Nexus 9 Review: 3 Months Later
The Nexus 9 came out back on November 3, 2014, the first piece of hardware that shipped with Android 5.0 Lollipop, Google's latest version of their mobile operating system. Within weeks I picked one up and started using it regularly and it soon became my go to tablet for the simple things like web surfing, checking email and social media and reading. The first one I bought came with a big bug in screen rotation feature, but a replacement device works great and beat out my iPad Air for most things.
We published a review of the Nexus 9 soon after it came out, but we decided to offer a follow-up Nexus 9 review after 3 months of nearly daily use.
Nexus 9 Review: 3 Months Later
The Nexus 9 includes an awesome 8.9-inch QXDA IPS display, long battery life, great sound and a fast dual-core processor. It's easily one of the best Android tablets, if not the best available. HTC built the Nexus 9 and they've got a great reputation for quality hardware. The HTC One M8 was one a top pick in 2014 for Android smartphones.
The Nexus 9 started off with a bug for many users. The operating system's auto rotation feature didn't work properly with Google Now turned on. The problem plagued early adopters of the beautiful tablet running Android 5.0. Turning off Google Now fixed the issue for most users, but that also limited one of the best features of the tablet. See the video below demoing the problem.
Frustrated with the problem, I returned the Nexus 9 to Best Buy and ordered one from Amazon and the new one didn't suffer from the bug. For some people suffering from the problem, Android 5.0.1 fixed the issue but for others only a replacement will fix it.
Nexus 9 Apps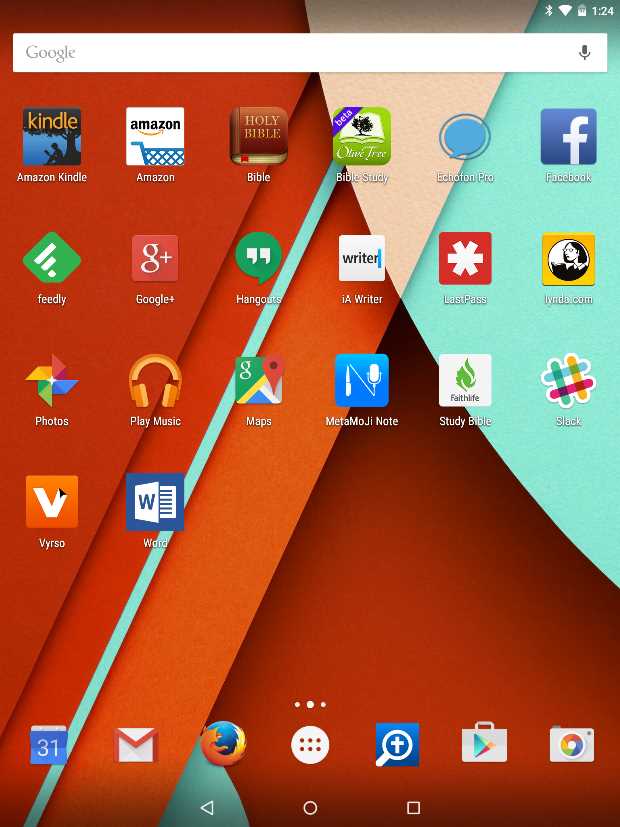 The Nexus 9 comes with all the great Android 5 Lollipop versions of the Google Play Services apps. The new Material Design looks modern and clean compared to older versions of Google's apps. They all work as designed and cause few problems, with a couple of exceptions.
The other Google Play Services apps work well and I prefer them over other apps from the app store. They run smoothly and bug free.
The Nexus 9 screen delivers crisp text when reading with the Amazon Kindle app and my collection of Bible apps (Logos Bible, Olive Tree Bible Study and YouVersion Bible). Video streaming also looks great using Netflix, Sling TV and Pocket Casts.
Nexus 9 Battery Life
The Nexus 9 offers great battery life. During a busy week recently, the tablet sat on my night stand for a couple of days and only lost a small percentage of its battery life in standby mode. Then I picked it up and enjoyed using it heavily for the next day and half without charging it. The tablet's never run out of juice before I plugged it back in each night.
HTC put a 6,700mAh battery in the tablet and Android 5.0 Lollipop comes with great battery management features and battery savings mode. As a result, it lasts every bit of the 9-10 hours Google promises. As a result of the great battery life, there's no need to run power managers or worry about battery backup devices unless a user really tortures their Nexus 9 with constant video streaming or gaming.
Speed
The dual-core processor makes the Nexus 9 user-interface smooth and speedy. Apps generally pop open quickly and load within seconds. A few larger apps can take longer, but that's rare.
I do experience an occasional system freeze when hitting the home button. The app instantly disappears, but the screen doesn't redraw the home screen icons for a few seconds.
Hardware
The IPS screen on the Nexus 9 looks beautiful. It's bright, detailed and has excellent color. Video and images look nice on this high-resolution QXGA (2048×1536) display. Users will love the double-tap-to-wake feature. Just bump the screen a couple of times and it comes to life.
Few tablets will measure up to the Nexus 9 sound. HTC Boom Sound puts front facing speakers on the display. You can't see them like you can on the HTC One smartphones, they're there behind the bezel. They sound very good even though the bezel covers them up but they're still just tablet speakers, so don't expect audiophile quality sound. They're loud enough to use in most situations without need of external speakers or headphones.
The build quality stacks up to most tablets. It's no iPad Air in terms of design, but it will last. The back panel has some give when pressed, but most people don't push on the back of their tablet. The squared off edges feel good and firm buttons say quality. Some feel like it's cheaply made, but I disagree. The material makes it light and durable.
Wi-Fi, Bluetooth & NFC
The Wi-Fi on this device works reliably and quickly, although some users report connection issues. I've not experienced any temperamental connection issues or slow performance, except when connected to a slow network. Bluetooth works just as reliably. Connect a Bluetooth headset for audio. Hook up a keyboard for productivity. Again, some reported some issues, but mine didn't suffer any wireless connectivity problems at all.
The NFC lets users tap their Nexus 9 to another NFC-enabled device. This allows for things like sharing contacts, files, pictures and more. It also lets them quickly pair things like the Motorola Elite Sliver headset or some other NFC-enabled speakers that connect via Bluetooth like the iHome iBN26 speaker.
Bugs & Issues
We already mentioned the rotation issue above and some connectivity problems some had with the Nexus 9. Other problems some Nexus 9 owners experienced include:
Slow charging
Poor performance
Wi-Fi connection issues or drops
Heat while streaming video or playing games
NFC failure
Bluetooth connection problems
Slow loading apps or crashing
Freezes
My Nexus 9 gets hot while playing video and occasionally the system freezes as described above. I've not suffered any of the other problems. If you've experienced any of these, check out some of our posts on fixing general Lollipop issues below:
Isolated bugs and glitches plague every new piece of hardware, but with the Nexus 9 these mostly seem isolated. Some of the more common problems are minor, like the heat problem and screen freezing for a few seconds on occasion.
We hope the Android 5.0.2 Lollipop will fix these issues. It's delayed compared to other Nexus devices and there's no word on a specific release date.
Would I Buy It Again?
Anyone planning to get an Android tablet should consider the [amazon_link id="B00M6UC974″ target="_blank" ]Google Nexus 9 Tablet (8.9-Inch, 32 GB, Black)[/amazon_link] ($429.99 for black 32GB from Amazon) first. Unless it's missing something you need, I wouldn't look anywhere else. Yes, I'd buy it again and I often recommend it to friends and family. Here's why:
Great display
Long battery life
Speedy performance
Faster Android updates than other manufacturers
Who's the best candidate for buying the Nexus 9? People who love to read eBooks, watch movies or TV, as well as other general tablet tasks. It's a decent gaming tablet, although gamers may want to look at something like the NVIDIA Shield too. If reading, watching video and Internet tasks rank at the top of your list and gaming comes in below those, the Nexus 9 is the best Android tablet available and competes nicely with the iPad Air. Thanks to the 4:3 ratio screen it's also a decent productivity tool when paired with Bluetooth keyboard case.
Edited to reflect error. The Nexus 9 runs a dual-core processor, not a quad-core.

As an Amazon Associate I earn from qualifying purchases.