Nexus Q-Inspired LG Nexus 4 Wireless Charging Pad Revealed?
It looks like Google's LG-made Nexus 4 will come with wireless charging, though it's unclear if Google will promote the feature as heavily as Nokia is with the company's forthcoming crop of Windows Phone 8 Lumias. The wireless charging pad press image was leaked and reveals a device that looks to be inspired by Google's recent Nexus Q, which is a wireless social music streaming device for the living room.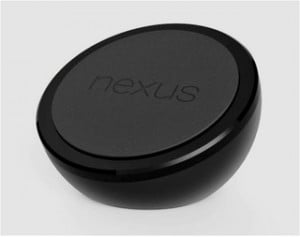 It's unclear at this time if the image obtained by Phone Arena is legitimate or what the device would be. The slanted top edge of the pod resembles what Palm was doing with its Touchstone wireless chargers for the webOS-powered Palm Pre smartphone in the past. The device would allow users to see and operate the touchscreen while the phone is charged on a tabletop surface, similar to how a desktop cradle would work.
As Google is slated to host its 'playground' event on October 29, we'll hopefully find out soon enough at that event.
The Nexus 4 is rumored to be similar to LG's current flagship Optimus G smartphone, but will debut with a new version of Android known as Android 4.2 Key Lime Pie.