Nexus Q Revival Unlikely On Google I/O Anniversary
The fate of the Nexus Q still remains in limbo as sources say there are no plans at the time to bring the music streaming device out of dormancy at this year's Google I/O conference. Google I/O marks the year anniversary of when the Nexus Q was initially introduced. Since it debuted, Google had shelved plans for the media streaming ball, which had limited function and was priced at $300.
According to sources to All Things D, Google won't be talking about any future plans for the Nexus Q this year. The publication didn't mention if the Nexus Q is still on Google's product roadmap, or if its long dormancy will lead to a permanent rest for the Nexus Q.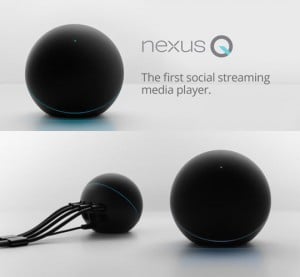 The Nexus Q is a music streaming device whose primary task is to connect to Google's Play Store ecosystem over WiFi in the home. A circular strip of attractive LEDs light up the orb form of the Nexus Q, and users can push songs they have on their phones to the Nexus Q and have listening parties and share songs and create interactive playlists.
Google had at the time tried to use the stagnant U.S. economy by saying that the high price tag of the Nexus Q was set because the device was to be made in the U.S. However, the limited function of the Nexus Q made it a difficult proposition, competing against the $100 Apple TV that could stream music and videos, as well as the more expensive Xbox or PlayStation that added a home gaming console capability to the mix.
In July, Google had stated that it would be postponing the consumer launch of the Nexus Q to address user concerns. Primarily, users were skeptical of the price tag and limited functionality. At the time, it was believed that Google would add more functionality into the attractive living room piece, perhaps bundling in full Google TV functionality.
However, Google has said little of its plans since July, and now it seems that the Nexus Q may be joining Google's @Home initiative. @Home was introduced two years ago as a way to bring Android to the home automation market, but Google has made no public moves since the initiative was unveiled.