NFL Mobile App Redesign Arrives in Time for NFL Preseason
With the FIFA World Cup finally behind us, the real football games can begin. I'm talking about NFL Football of course, which is finally here after what felt like forever. Before the NFL Preseason kicks things off app developers have been busy, and Verizon's popular NFL Mobile just received a facelift.
It's that time of year again. Time for fans to reinstall NFL Mobile, ESPN Fantasy Football apps, gather their favorite jersey, chairs, ice-cold beverages and chips, and get ready to enjoy some official NFL action. Arguably one of the best apps for football fans when it comes to mobile devices is the Verizon NFL Mobile app, which yes, sadly is exclusive to Verizon.
Read: Madden 15 Release Nears, Rookies Respond to Ratings
The season kicks off with the Hall of Fame ceremony in Canton, Ohio this Saturday, followed by the first game of the season. The Hall of Fame game is Sunday between the Bills and the Giants. After that we're in full preseason mode, and you'll want to follow along with all the roster changes, video, highlights, live streams and more with NFL Mobile.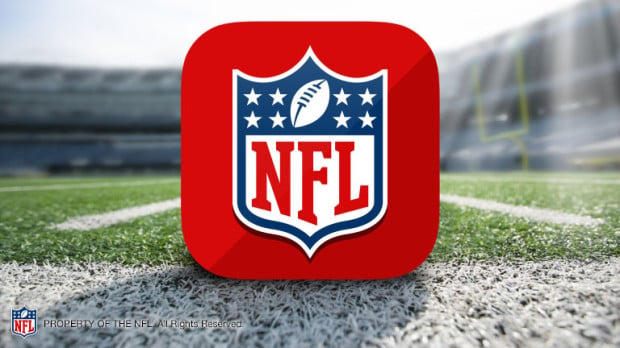 This week Verizon and the NFL have updated their official NFL Mobile app with a few much needed changes and additions. The app received a pretty major facelift or redesign, most notably on the home screen when you first open NFL Mobile. The brand new home screen has live game alerts, latest scores, highlights, and other important information at a glance. Rather than having the user scan through each category to find content on the go.
NFL Mobile now lets you set two teams as favorites to keep track of, but seriously, who has two teams? You should be ashamed of yourself. That being said, you can now follow two teams at a time (one for the significant other I suppose) and even keep track of your fantasy team — which is another major addition.
The app has tons of content to watch. From video highlights, analysis, plays of the week and more, but some of this may require a cable subscription of some kind. However, most of it can be streamed completely free right from NFL Mobile.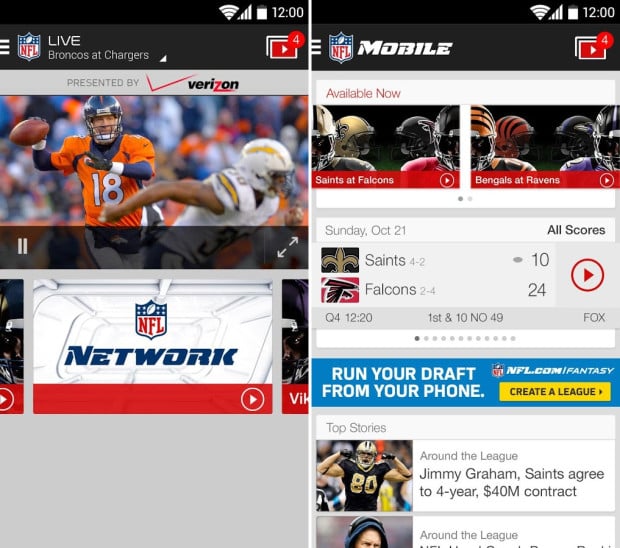 Speaking of live streaming games, we have excellent news. This year Verizon is offering tons of live video free, finally. NFL Mobile users have access to all live video features except RedZone without a Premium subscription, as long as you're on a Verizon MORE everything data plan. I might just switch back to Verizon for this alone!
Here's the official changelog regarding what's new with NFL Mobile 2014, on top of all the other great features:
Access scores, live video, fantasy teams, and news from the redesigned Home
Live streams of local Sunday CBS and FOX games added for Verizon Premium and MORE Everything subscribers
Select a team to follow in addition to your favorite team to get team scores, highlights, and news
Live stream of "Fantasy Live" now available to all NFL Mobile users
Two major additions that should have users excited is NFL and Verizon now have access to local Sunday CBS and Fox games. Previously these were black-out games, that couldn't be watched. Second, Fantasy Live the show is now available to all NFL Mobile users without a cable subscription. This means users will get to stream more actual live NFL games with NFL Mobile, and catch up with all the fantasy news by watching Fantasy Live following each gameday.
Overall the new look and feel is pretty nice, and aligns with some of Google's recent design changes, not to mention the app seems a bit faster and more smooth. That being said, it still is laggy at times, and isn't the smoothest app we've used.
Tablets
NFL Mobile also works on select tablets available exclusively from Verizon Wireless like the Nexus 7, LG G Pad 8.3, Samsung tablets, and a few others, and it appears as if NFL Mobile has more emphasis on tablets with this release too. The layouts are improved, and the viewing experience is better for a larger screen.
It's worth noting that live video playback support on tablets is available from selected cable or TV providers. Meaning even with NFL Mobile you'll still need to sign into your cable provider of choice on tablets. Oh, and streaming to your TV via HDMI won't work. They've kept that disabled due to rights restrictions.