NFL Now iPhone App: What You Need to Know
Right on time for the start of the NFL preseason, NFL Now has launched on iPhone, iPad and the Apple TV with some nifty features, including personalized video streams.
The NFL Mobile app has already been released for this year, complete with a redesign, but the football organization didn't stop there. NFL Now is a new app that released for the iPhone, iPad and the Apple TV today, and it allows users to get even more out of the 2014 NFL season.
The app comes with personalized video stream of your favorite NFL teams, players and coaches right to your iOS device, and you can get access to exclusive interviews and stories about your team, as well as breaking news on your fantasy players, and unlimited access to your favorites in the NFL Films Archives.
Plus, NFL Now learns what you like and delivers a non-stop stream of customized NFL content based on these preferences, and it allows for seamless hand-over between devices, so you can begin watching something in NFL Now on your Apple TV and then finish watching it on your iPad.
Th app also boats "hundreds of new videos daily" and the "deepest NFL video library anywhere." Furthermore, you can use AirPlay from your iOS device to your Apple TV, although the NFL Now app comes equipped with Apple TVs anyway, but the AirPlay feature might be more suited for some users.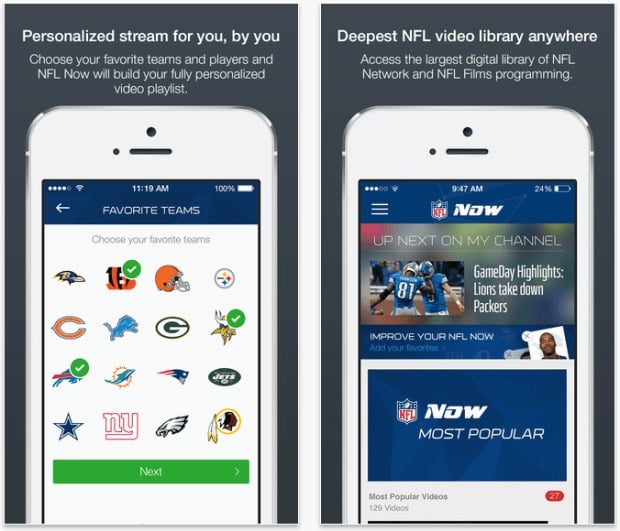 If you want to get even more out of the app, you can sign up for NFL Now Plus, which costs $1.99 per month in the US and gives you unlimited access to the expansive library of NFL Films shows and premium game highlights that include hundreds of real-time in-game highlights.
Those living outside the US, Mexico and the UK also get access to live streams of the NFL Network and NFL RedZone on Sundays.
We already showed you how you can watch NFL preseason games with NFL Sunday Ticket Now, as well as get the latest news and highlight on your Verizon smartphone with NFL Mobile, but NFL Now gives all users the opportunity to never miss the action, even if you can't watch the game live.
It is a bit disappointing that you can't stream games live, and that the premium features seem slightly lacking, but we suppose the other NFL app options that are available can fill in any voids that you come across.
Of course, NFL Sunday Ticket allows you to watch any game live from your mobile device, except for in-market games, which are games that take place near where you live. For licensing reasons, these games are blacked out to locals, so you'll need to watch it on television or go to the game in order to catch the action. This is a huge downside to any live-streaming sports app, and it's one of the biggest reasons that users don't pay up for a yearly subscription to such an app.
There's also NFL Mobile, but it's exclusive to Verizon Wireless customers only. The app gives you live streams of tons of games, including Sunday night, primetime, CBS, and FOX games all completely free as long as you're on a Verizon More Everything plan. For other plans, NFL Mobile Premium is just $5 a month, which is fairly cheap for the kind of content that you'll receive.
Plus, for $1.99 per month, More Everything customers can add NFL Redzone on top of the already-free NFL Mobile content.
The NFL regular season officially gets under way during the first week in September when the Green Bay Packers take on the defending Super Bowl champion Seattle Seahawks on Thursday, September 4. It'll be the first game of the season and should prove to be a good one with Seattle at home.