NFL Sunday Ticket for All, but Watch Out for the Fine Print
NFL Sunday Ticket is now available to anyone without the need for a DirecTV satellite subscription, but pay attention to the fine print, as there may be a catch.
Previously, NFL Sunday Ticket was only available to those who subscribed to DirecTV, and even then you still had to pay for the NFL streaming, which didn't make much sense as far as its exclusivity with DirecTV, but that's changing now, as DirecTV has announced that NFL Sunday Ticket will be available to anyone willing to shell out at least $200 for the privilege of streaming any game all season long.
This is the first time ever that NFL Sunday Ticket has become available for non-DirecTV subscribers, finally making it an option for anyone who wants to stream football games live to their mobile devices, computers, or game consoles.
The new package tiers consist of three packages. The entry-level package costs $199 and allows you to stream any NFL game on your computer or mobile device. For $239, you can stream games from your game console, but you won't be able to stream them from your computer or mobile devices as well, which seems like a big oversight, especially considering that you're paying $40 more for this package.
The last package is the granddaddy of them all. For $329, you'll be able to stream games from your computer, mobile devices, or game console, as well as get access to the Red Zone Channel and DirecTV's Fantasy Zone for fantasy football players.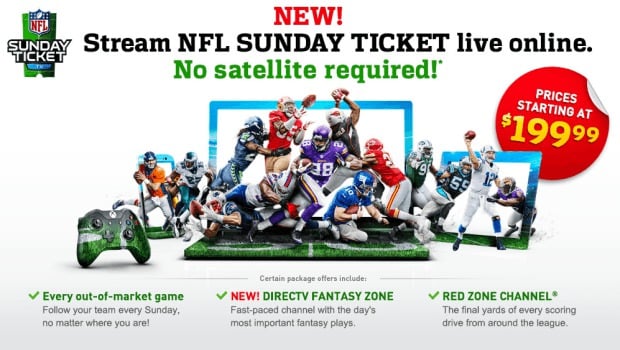 Each tier will include the ability to get real-time stats and scores on every team, as well as the ability to track your favorite players, (which you can get for free anyways on several websites on the internet. Amazing!).
This is all sounds great, but be aware of the fine print. Most notably, blackout restrictions apply, so if you live near your home team (which you most likely due), you'll be blacked out from streaming it.
One of the biggest complaints with sports streaming apps is that they usually have blackout restrictions, meaning that if you live near the team you're wanting to watch, you won't be able to. This is to get more people to the stadium to watch the game, rather than just stay at home and watch it on the TV (and it also has to do with broadcast licensing rights and a whole bunch of other nonsense). It's a clever move for the parties involved, but it's really annoying for us fans.
There's an easy way around blackout restrictions that we tried in the MLB At Bat app, although the recent updates to MLB At Bat seem to block these methods, so your mileage may vary based on how you set up your VPN and what VPN service you use.
One question that we've been asked already is if users will be able to DVR a game with NFL Sunday Ticket and watch it later. The short answer is no. Obivously, if you have DirecTV and are watching NFL Sunday Ticket through that service, then you can DVR it and watch it later, but if you're streaming the games on your mobile device, game console, or computer, you won't be able to record them in order to watch them later, unless you have a special DVR card installed in your computer. Other than that, your only option is to watch the games live.
Streaming for NFL Sunday Ticket begins on September 7, which is when the NFL regular season will kick off, so be sure to buy into a package to get the full benefits before that date if you want to catch all the games.

This article may contain affiliate links. Click here for more details.