NHL PrePlay Lets You Experience the NHL Stanley Cup Playoffs on iPad
At my house watching sports and using your iPad go together so Molson Canadian NHL PrePlay wants to take advantage of this phenomena with an interesting companion app that lets you use your hockey knowledge and prognostication skills while you watch the Stanley Cup Playoffs.
If you're a hockey fan, then you're likely to watch as the NHL gets closer to crowning their champion for the season. As you watch NHL games, check out this free Molson Canadian branded app that lets you interact with games and fans by predicting what you think will happen during the action. You earn points as you accurately predict whether a team will kill off a penalty play or whether they will score on a power play. Who will win this next face off or who will win the game? You can show off your predictive skills by bragging to other fans all over North America.
Pre Play Sports says, "The NHL fan demo consists of the youngest, highest educated, most affluent and tech savvy of the four major professional sports." Not sure where they get this info, but you can help prove it by downloading the app and watching the Bruins and Capitals go at it. Like 88% of tablet owners, you don't just want to watch the game. You want to experience it with an app like NHL PrePlay as you watch TV and use your iPad.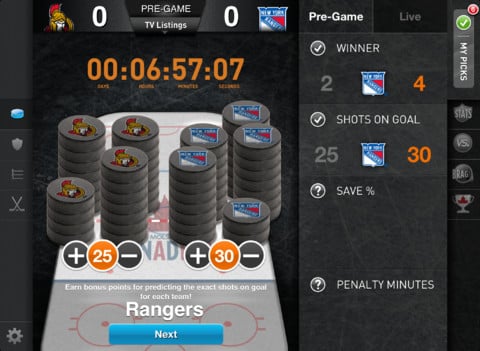 In addition to guessing what will happen next, you can guess or expertly answer NHL Hockey trivia questions and earn more points and virtual awards further enhancing your Hockey cred with other fans.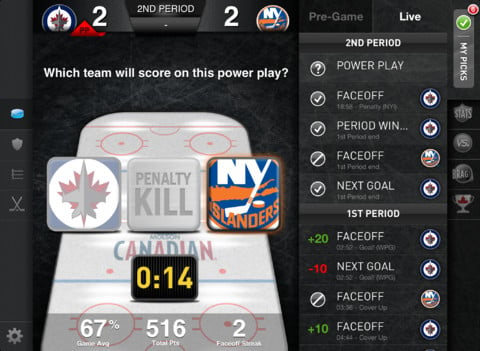 The app works with your iPad and comes free in the App store. They also offer a similar app for the iPhone that's also free but not focused on hockey.

As an Amazon Associate I earn from qualifying purchases.