Nice product placement: Sahara Tablet PC on CSI: New York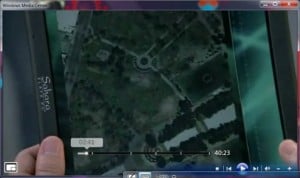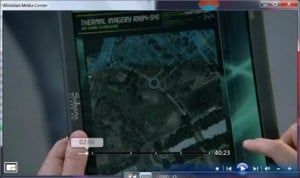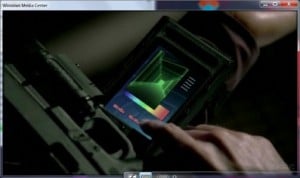 Taking a mental health day (actually a "my leave doesn't rollover" day) and after taking care of some errands, I came home to get some work done and put a missed episode of CSI: New York on in the background. I didn't initially like this flavor of CSI, calling it "CSI: Boring" but they've since kicked up the action and upped the Tablet PC quotients. This shot caught my eye because it was out in the field and clearly shows the brand name. Kudos to TabletKiosk for getting a Sahara slate tablet so prominently featured.
A bit later, Mac Taylor was shown running through the sewer with a touchscreen device strapped to his wrist (third screenshot), probably his iPhone, and there are touchscreen desktops and monitors galore in the lab as they hunt down the Compass Killer.
BTW, these screenshots were taken from my media PC running Windows 7. The new Internet TV feature is still pretty light on content, but the CSI franchise and Numb3rs alone make it worthwhile. If you've got it, you can check out the episode "Manhattanhenge" while it lasts. To me, Windows 7 is a must-have upgrade for anyone using Windows Media Center.