Nike FuelBand 2: Heart Rate Monitor & Android Support Rumored
The Nike FuelBand 2 is reportedly in the works, and may come with a heart rate monitor and Android support.
Nike FuelBand is currently one of the most popular app enabled fitness accessories, even earning a place on Apple CEO Tim Cook's wrist.
While popular, the FuelBand lacks several features like a heart rate monitor and support for Android smartphones, but that may all change soon.
According to Gear Live, Nike is testing the second-generation FuelBand across the Nike campus and is allowing participants to take the Nike FuelBand 2 device off campus as long as it is disguised as an original Nike FuelBand.
The Nike FuelBand 2 may include the ability to monitor your heart rate, something some Fuel Band competitors are now offering. This feature would reportedly work when users push down on the FuelBand, making contact with the skin. It's not clear if the FuelBand app will log this or if the device will simply show it.
Nike is also reportedly improving the speed of the device so tapping on the buttons will bring up your information faster. This speed increase will reportedly come from faster LEDs. Developers will also reportedly be able to connect to the Nike FuelBand API to use accelerometer data for things like controlling an app.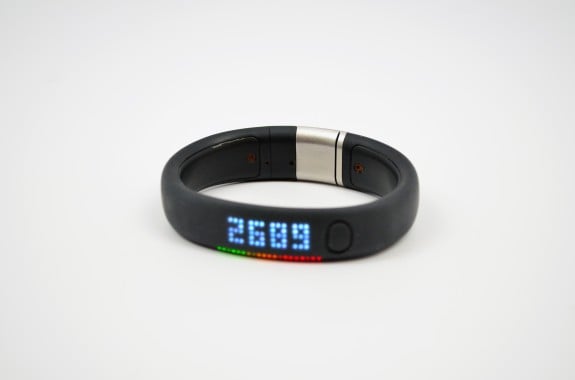 Nike is also reportedly building in Bluetooth 4.0 LE support which will allow for better battery life, something it may need with rumors of automated syncing.
According to Gear Live, a Nike FuelBand Android app is on the way even though Nike claimed it would not offer an Android app earlier this year. This is good news, but if true it will likely only arrive with support for specific phones. Because Google does not support Bluetooth 4.0 LE out of th box Samsung and HTC (among others) must build it into phones on their own. This is why the new FitBit Flex only supports syncing with specific devices.
The Nike FuelBand could face increased competition if even a few of the rumored smartwatches come to market. An Apple iWatch and a Google smartwatch are both rumored, as is a Samsung Galaxy S smartwatch. Many of these smartwatches also feature a fitness component.
There is no Nike FuelBand 2 release date rumored yet, but the original is just over a year old, which makes the timing right for a new model.

As an Amazon Associate I earn from qualifying purchases.