NikeFuel Missions Turns Fuel Points Into A Game
Today Nike announced NikeFuel Missions as a way to make the Nike+ FuelBand more fun and exciting to use.
NikeFuel Missions is a game that uses Fuel Points as a scoring system. The game has players helping their characters through a world were everything has turned to ice. The game gives players goals to reach for each mission to reach the next level in the world.
To complete each mission users have to earn enough Fuel Points in a set amount of time. The first mission, for example, asks players to earn at least 300 Fuel Points in 30 minutes. Other missions presumably ask players to earn more Fuel Points with shorter time limits.
Read: 4 Fitness Trackers To Get in Shape for 2013
NikeFuel Missions includes the likenesses of four Nika athletes, Calvin Johnson, Allyson Felix, Alex Morgan and Neymar Jr., who will meet users for each mission. The athletes will give advice on the missions and suggest "innovative products to help the player battle the elements and get to the next mission." There's a good chance that each of those "innovative products" also come from Nike.
To track their progress in NikeFuel Missions players need some sort of recent Nike fitness tracker. Supported devices include the Nike+ FuelBand, Nike+ SportWatch GPS, Nike+ SportBand and iPod nano with Nike+ (the most recent model is shown on the website, but the previous generation watch-like nano should work as well).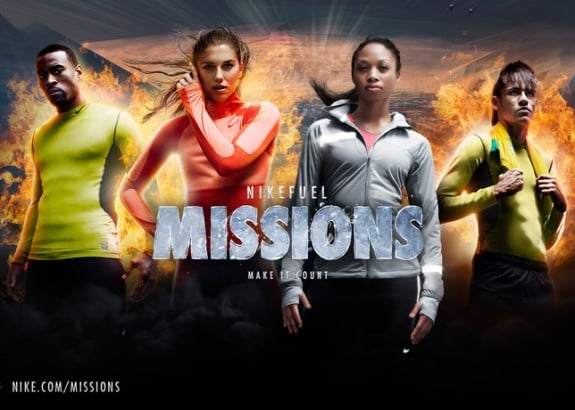 NikeFuel Missions will also work with the Nike+ Running app for iPhone and Android as well as Nike+ Training for the Xbox 360 with Kinect.
Nike's apps already include a form of leader boards for competing with friends, but NikeFuel Missions adds another game element to the apps and devices. The game helps users who want to have the game functionality, but can't convince their friends to use the Nike apps or to buy a FuelBand.

As an Amazon Associate I earn from qualifying purchases.