Nikon D5: A Flagship Camera with Ridiculous Specs
Nikon unveiled the long-awaited D5 professional DSLR at CES 2016 today in Las Vegas. The new camera has an incredible ISO range, 4K video recording and a fast image processor. The new camera will go on sale on March for $6,499 (body only), but those who want to get their hands on the Nikon D5 should pre-order from an authorized dealer.
The 20.8-megapixel CMOS sensor might not sound all that impressive to those who have cameras with nearly that resolution in their smartphones, but the Nikon D5 can produce world-class photos and will be in many professional photographers' bags in the coming months.
Read: Nikon D500 Offers Pro Features, 4K Video and 10 FPS Shooting
The Nikon D5 can shoot at 12 frames per second with full auto-exposure and autofocus. Fixing the focus and exposure boosts that number to 14 frames per second. The camera can capture up to 200 continuous frames in RAW mode. That means photographers can capture a full 100m dash at a track meet without missing a single stride.
The Nikon D5's ISO range is otherworldly, allowing photographers to set the ISO from 100 to 102,400. Expanded ISO allows photographers to shoot at ISO 3,280,000, making capturing photos in near darkness a real possibility. To put this in perspective, the native resolution of the Nikon D4s is "only" ISO 25,600, expandable to 409,600.
A lot of professional journalists and photographers in other lines of work are increasingly expected to capture high-quality video while on photo assignments.  The Nikon D5 is packed with video features to handle anything from shooting videos for the Web, all the way up to cinematic-quality videos. The D5 can record in 4K Ultra High Definition at 30/25/24p. Full HD recording can be recorded at 60/30/24p. The camera can even capture Time-lapse videos in 4K.  Like the Nikon D810, the D5's HDMI cable can output full-resolution video while recording.
Above is a short film filmed entirely with the Nikon D5. Obviously, this film was shot by a professional, using expensive lenses and other equipment, but it does  a fantastic job showing the D5's illustrating Nebraska in the best light possible.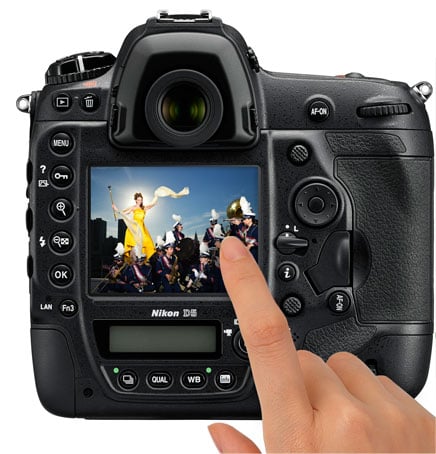 One fantastic feature is the LCD on the back of the D5 is actually a touchscreen, allowing photographers to swipe through shots, zoom in, edit file names and select AF/WB points.
According to Nikon, the D5 has a 153-point autofocus system that stretches almost the entire frame. To help speed up autofocus capabilities, the Nikon D5 is the first DSLR with a processor dedicated to just focusing.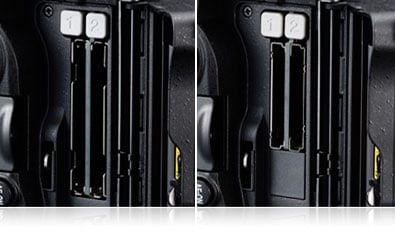 The Nikon D5's predecessors, the Nikon D4 and D4s, featured dual memory slots, but they fit one CF card and one XQD card. The Nikon D5 has a modular design for memory that allows photographers to select either dual XQD or dual CF card slots. This will simplify photographers' workflow since they won't have to shuffle around with different memory cards and readers.  The XQD slot isn't found in any other Nikon camera, making it an oddball.
Nikon also released its prosumer Nikon D500 DSLR at CES 2016 today. It borrows some of the technology from the D5, but is in a different class. The Nikon D500 costs less than a third of the D5's price tag at "only" $1,999. The Nikon D500 will also be available starting in March.