Nikon D500 Offers Pro Features, 4K Video and 10 FPS Shooting
Nikon unveiled the Nikon D500 at CES 2016 today in Las Vegas. The new DSLR features UHD 4K video and can shoot at 10fps, features typically found in professional cameras. The Nikon D500 is a DX format camera, which means some pros will shy away from it, but the Nikon D500's smaller format will satisfy the photo and video needs of almost everyone.
The Nikon D500 is the company's follow-up to the popular D300s camera. While the Nikon D500 can't hold a candle to Nikon's professional lineup, it does borrow features from the newly announced Nikon D5.  The D500 has the same AF system as the Nikon D5 and the D5's Multi-CAM 20K AF sensor module, with a separate dedicated processor for AF function.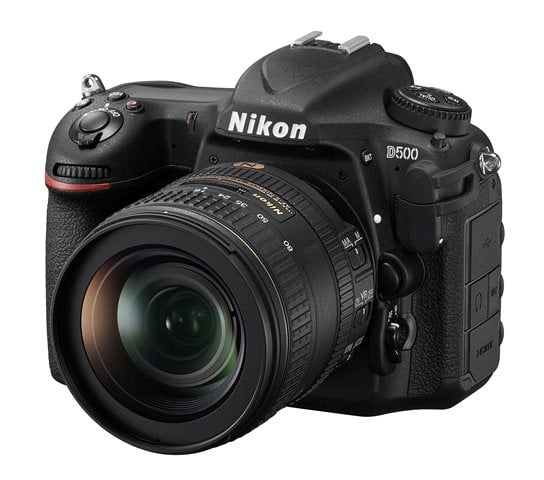 The Nikon D500 can shoot at up to 10 frames per second for up to 200 continuous frames in RAW format. That means photographers can capture up to 20 seconds of continuous action and have plenty of frames to choose from.
The Nikon D500 is the first camera to offer the Nikon SnapBridge feature. This means the camera can always be connected to smartphones via Bluetooth Low Energy. Snapping and sharing photos can now be seamless. On most cameras, photographers need to pause shooting in order to connect cameras to smartphones to transfer files. The SnapBridge technology means photographers can keep shooting while the images are transferred automatically.
The Nikon D500 has a 20.9-megapixel DX-format CMOS sensor. As we've stated numerous times, megapixels aren't anything and this camera will deliver far better results than any point-and-shoot or smartphone camera, even those that boast similar megapixel counts. Nikon has a full range of excellent lenses and its EXPEED 5 image processing image will put smaller cameras to shame.
"Nikon has answered the call from photographers to once again re-invent this camera category and offer an unmatched combination of performance and value that is hard for any photographer to resist," said Masahiro Horie, Director of Marketing and Planning, Nikon Inc. "When paired with the amazing imaging capabilities of legendary NIKKOR optics, photographers can capture intimate portraits, mind-blowing macros or action from extreme distances– the possibilities are endless."
The Nikon D500 has an ISO range of 100-51,200 and can be expanded to ISO 50-1,640,000. This will help enthusiasts and pros capture images in extreme low-light situations, such as nighttime wildlife photography and action sports.
Nikon's DX cameras typically aren't as robust as their more expensive full-frame sensor cousins. However, Nikon claims that the D500 has the same robust build quality as the Nikon D810, a full-frame professional camera. The Nikon D500 is build of magnessiu alloy and reinforced carbon fiber. The company claims the D500's shutter is tested to 200,000 actuations.
Of course a lot of DSLR users aren't too concerned with still images these days, instead using relatively affordable DSLRs as high-quality video cameras.  The Nikon D500 can capture 4K UHD footage at 30 frames per second.  The D500 has advanced video features such as timelapse recording, and Picture Controls. Like the Nikon D810, the Nikon D500 has an HDMI output that delivers uncompressed video while recording at full resolution.
The Nikon D500 will begin shipping in March for $1,999.95 (body only). As with all new high-end Nikon cameras, we expect there to be high demand and we suggest booking pre-orders with a Nikon  dealer as soon as possible. A D500 kit will also be available for $3,069.95 that comes with an AF-S DX NIKKOR 16-80mm f/3.5-5.6 G ED VR lens.