Nintendo Miitomo Release: What You Need to Know
With the Miitomo release here, video game maker Nintendo is close to transforming itself from old-style video game maker to a company that fully embraces the future of mobile gaming. That's surprising given Miitomo's nature. It's not a game featuring Mario, Pokémon, Zelda or any of the other characters that we know from popular Nintendo games. It's a modern messaging app, built on the back of Nintendo's online services, running on smartphones that barely have links to the Nintendo experience today.
Nintendo announced last year that it was throwing caution to the wind and aggressively embracing iPhone and Android devices. Instead of developing the games in-house, the company revealed a partnership with mobile game developer DeNA. Miitomo is the first major release to come out of that deal with DeNA.
Here's what you need to know about this week's Miitomo release, so that you're geared up and ready to try the new messaging app with your friends and family.
Miitomo Release Date
Officially, Nintendo and DeNA have a multiyear deal, with more than one title debuting this calendar year. All that starts with the Miitomo release, which arrives today in the United States and other western countries. Users with an iPhone, iPod Touch or a device running Google's Android operating system can  download the app from the iTunes or Google Play stores.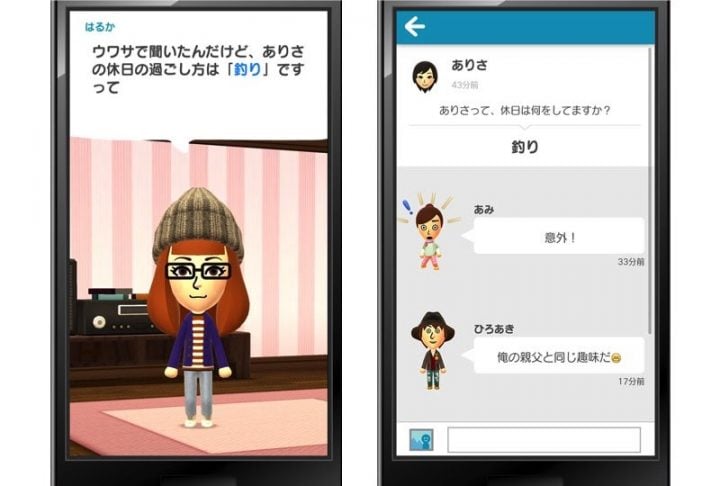 Smartly, DeNA and Nintendo aren't charging users for access to Miitomo, the app is free to download, but not fully free to use. Everyone can try the app, and only users that decide to purchase in-app items and extras will need to worry about spending money on anything.
How Miitomo Connects to Wii U & Nintendo 3DS
Though it's a messaging app, Miitomo connects with the entire Nintendo ecosystem, even if it doesn't appear to compliment Nintendo's other offerings. The company is banking on each of the mobile apps and games that it releases fitting into its larger game ecosystem in some way or another.
For Miitomo that integration starts with a Nintendo Account. When going through the setup process, Miitomo users are required to provide a Nintendo Account that links the app to the rest of their gaming experience. They're available now at Miitomo.com.
What You Can Do with Miitomo
Next, Nintendo is hoping that Miitomo release downloaders connect the app to their existing social network accounts. This way, they don't have to go hunting for their friends and family. Officially, the app supports both Twitter and Facebook accounts.  It loops them in to make finding everyone in your life a bit easier. In that way, Miitomo isn't much different from Instagram, SoundCloud or most other iPhone and Android apps.
Next, Miitomo lets users create their in-game avatar, or what the firm calls a Mii. Anyone who's used Nintendo's latest consoles are likely familiar with Wii characters, as they've existed on Nintendo's consoles for years. Users who have a Mii already that they like can simply reuse that Mii unchanged with a QR code supplied by Nintendo. Newcomers need to choose how their Mii looks and behaves. Mii creation is important because other users will see and interact with that Mii character as they chat with you in Miitomo. Users who quickly want to get going with Miitomo have the option to skip some customization and take a picture of themselves and automatically create their Mii.
Facial features are customizable. App users can also decide what kind of personality their Mii has, and what pre-created voice is closest to their real-life voice.
Miitomo is part personal quiz game, in addition to being a chat app. After the setup process is done, the app learns more about who you are, and what you like. It then uses the answers that you provide to those questions to spark conversations among you and your friends that have also installed Miitomo on their iPhone or Android device. "The answers get shared among friends, sparking interesting conversations – part of the fun is discovering unexpected facts about your friends," Nintendo says in a message about the Miitomo release sent to Gotta Be Mobile. It might be helpful to think of your answers to these questions as ice-breakers in the same way that someone would ask you a question if they'd only met you in person a few times.
Answering questions, participating in conversations and more allow Miitomo users to rack up points. Those points can be spent in the My Nintendo Rewards program or directly through Miitomo and the Nintendo eShop on other items for Wii U and Nintendo 3DS.
Have fun with Miitomo.

As an Amazon Associate I earn from qualifying purchases.