No iPhone 5: So What Am I Supposed to Buy?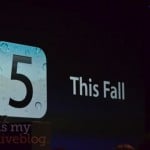 For the past three years, Apple's announced a new iPhone at its World Wide Developers Conference and made them available for purchase soon after. But Apple failed to announce the iPhone 5 at WWDC, leaving many early adopters with nothing to upgrade to as their contracts come up for renewal with AT&T.
AT&T typically allows its subscribers to purchase new phones at the lowest subsidized price every two years. In some cases, subscribers with heftier monthly bills are allowed to purchase a new phone at those low prices every year. I fall into that category and have purchased each of the iPhone models that Apple's released.
While I was prepared to fork over another $300 for Apple's iPhone 5 this month, Steve Jobs and friends didn't announce a new phone and likely won't  until iOS 5 is ready to ship, which is this fall. Will AT&T allow users in my situation to buy alternative phones at their subsidized prices? While iOS 5 does look very nice, some iPhone users are tired of the platform and are being drawn to Android devices, which have several features not found on the iPhone.
A larger group of AT&T subscribers will be up for grabs until the iPhone 5 is announced. That's the millions of iPhone 3GS owners out there who purchased their iPhones during the summer of 2009. Their two-year commitment to AT&T will be ending before the iPhone 5 is even announced. Even if they choose to stick with the iPhone platform, it's completely possible that they'll switch over to Verizon, which is known for delivering a superior voice experience in some areas.
AT&T is likely not happy with the later than usual announcement and release of the next-generation iPhone. AT&T has everything to lose with the delay, while Verizon has everything to gain.
So what are Apple customers supposed to buy this summer? iCloud is free (mostly) and OSX Lion is only $30, which is coming in July. Apple is missing out on a summer of spending by not releasing a new iPhone right when millions of its customers are ready to buy one. There will not be any lines spilling out of Apple stores this summer. Students won't be maxing out their credit cards to get the latest iPhone. There won't be a rush to buy all those super-profitable iPhone accessories.

As an Amazon Associate I earn from qualifying purchases.