No Line to Speak of at Local AT&T Store on iPhone 3GS Day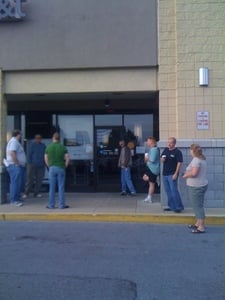 I headed out the local AT&T Store this morning to see if I could pick up an iPhone 3GS. Got there about ten minutes to 7AM and there wasn't much of a line. Actually it was kind of a circle. Only about 7 or so folks there. The manager came out about 5 of the hour, got some names. I was let in just after 7AM and walked out with a new 32GB iPhone 3GS in hand at 7:18AM.
The process went smoothly and I got the pricing I had hoped for once AT&T changed up their rules a bit.
A funny thing though. The in store demo screen was showing off the new features including MMS. Several folks who were aware were sharing a laugh over that one. The employees were not.
On leaving the store there were still about 3 people in line outside and all of the stations in the store were full. I'm guessing at our local store in Winchester they'll be sending employees home early today.
Other reports in various areas are showing lines and no lines, and I guess many factors are at play including the economy, the fact the 3G version has only been out for a year and you can put 3.0 OS on that model. At least two folks in the small line I was in had not heard that AT&T relaxed their upgrade pricing.
So, I'm restoring from a backup of the 3G to the new phone as I type this. We'll see how things go shortly.
BTW, Dwight Silverman if the Houston Chronicle (@dsilverman)   is starting a boycott of the space between the 3G and the S in 3G S. I've been ahead of the curve and typing 3GS all along, so I'm in support of the boycott.

As an Amazon Associate I earn from qualifying purchases.