No Suprise Here: Reports Say Microsoft Will Show Off Slates at CES 2011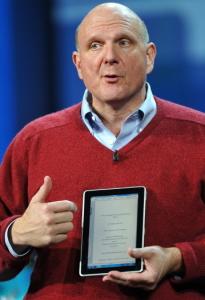 Like the headline says, no surprise here. Apparently Steve Ballmer is going to show off new Tablets at CES 2011 according to a report from Nick Bilton's Bits Blog at the NYTimes. The report further says the Tablets will be made by Samsung and Dell.
Apparently the Samsung Tablet will run Windows 7 when in landscape mode and  not be as thin as the current iPad and have a slide out keyboard. When the keyboard is hidden and the device is in portrait mode there will be a layered UI (here we go again?) for using the device in touch mode.
There's also some teasing going on here in what obviously is some planned leaking that says we might see a Tablet with Windows 8 shown off as well.
Let's just hope Ballmer looks a bit more excited than he was last year when he played "me too" at CES 2010.

As an Amazon Associate I earn from qualifying purchases.