No Surprise: Amazon Announces New Kindle $139 WiFi Only $189 3G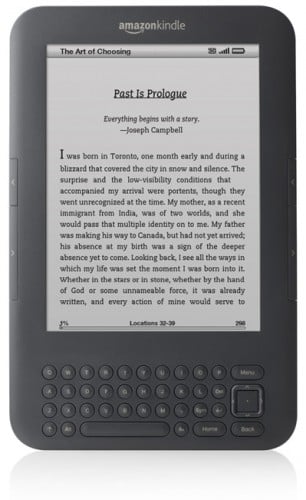 Please tell me you saw this coming. Amazon is announcing its next generation Kindle. It's not the Kindle 3, it's just called the Kindle. There are two radio options and price points. A $139 WiFi only model and a $189 3G model that will use AT&T. This will be rolling out on August 27th. Amazon says the E Ink screen has a faster refresh, and of course it is still not in color, but it is still 6 inches in size. You can also have a choice of colors the now familiar white or a darker Graphite, similar to the Kindle DX. Internal storage has been increased to 4GB and Amazon is saying battery life will be around a month with wireless switched off and 10 days with it switched on. The form factor is also smaller and lighter.
Engadget got to go hands on and is reporting that there are some design changes with the rocker and the side buttons. They also think the build quality feel more polished. There's also a jacket accessory that has a small pull out light. You can find more pictures and video here.
Amazon will begin taking orders tomorrow.
Of course the question everyone will be asking is, will it compete? I still think yes. You?

As an Amazon Associate I earn from qualifying purchases.