You can upgrade your gaming setup or office with the Noblechairs Hero chair. This is a well-built, and very firm gaming chair with a good deal of fit and comfort customization options.
The design melds racing car seat and executive aesthetics, combined with real leather or PU Leather options and two lumbar support options. It is an expensive chair, and it is quite firm compared to other gaming chairs that we've reviewed. If you're looking for a firm, well-built gaming chair or office chair upgrade, the Noblechairs Hero might be exactly what you need.
The Noblechairs Hero in PU leather is $439 to $489 in the U.S. and you can find it at Amazon, Champ Chairs, and Newegg.
[letsreview]
Noblechairs Hero Design
The Noblechairs Hero line is a large chair, which plays into the ability to comfortably support users up to 350 pounds. I tested the PU Leather model with red accents. The design is striking enough to stand out but still looks perfectly fine in an office setting. A small Noble logo and then a crown icon are on the interior side of the backrest, and the rest of the chair is black with red accent stitching.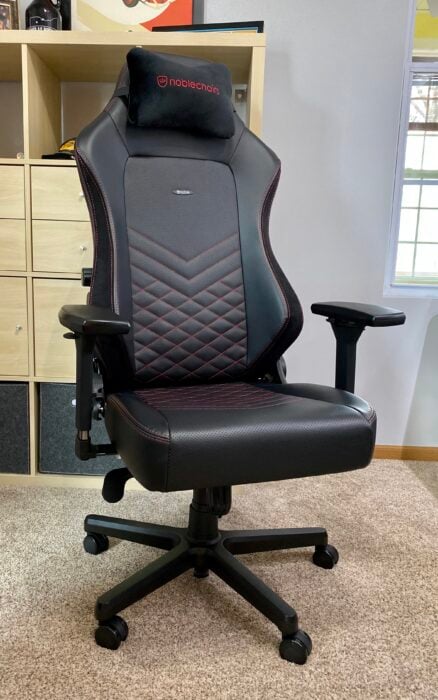 In addition to built-in lumbar support, there is also a lumbar pillow that you can put in place and lean back on, but nothing keeps that in place other than the pressure of you leaning back. The built-in lumbar support changes with a dial on the right side of the chair.
The armrests move forward, backward, up and down and can angle in or out to match your preference. I like to angle them in when I play console games but keep them straight while working at a desk.
Noblechairs Hero Comfort
This is a very firm chair, and that is by design. In fact, the firmness has held up for the multi-month testing period. It's a good type of firm, like a firm pillow or a firm bed that you choose, not something that is stiff due to low-quality materials. If you're looking for a super-firm chair, this one definitely needs to be at the top of your list. I've adapted to it, but my personal preference is for a chair with a little more give.
There is a full recline option on the chair that allows you to lean all the way back when you want to relax. The included memory foam pillow stays in place with an elastic strap and is great when simply leaning back or when fully reclining.
While I like the adjustment options for the armrests, they don't have enough padding and feel like a step down from the rest of the chair's overall quality and comfort.
Noblechairs Hero Setup
The Noblechairs Hero is easy to set up and install. It's a little faster with two people, but I was able to set it up solo in about 20 minutes. Simply connect a few of the parts and then set it on the base and you will be good to go.
If you need to disassemble to move to another location, you can easily remove the upper section with 2 screws and four bolts so that it fits into a vehicle easier. Once assembled it is quite sturdy. The tools you need to assemble it, an Allen wrench and a Philips screwdriver are included.
Is the Noblechairs Hero Worth It?
The Noblechairs Hero is a great gaming or office chair if you are looking for a very firm feel. This is a stiff chair that offers a lot of support. I would like to see higher quality armrests at this price point.
Thanks to the plethora of adjustability options, the built-in lumbar support, and the lumbar pillow, this is a chair that is quite adaptable. If you have the budget for a gaming chair, you like a very supportive fit and stylish, but low-key design.

As an Amazon Associate I earn from qualifying purchases.