Nokia: 4 New Asha Entry-Level Feature Phones
Nokia is kicking off its Nokia World presentation by saying that the company now has 7 phones with NFC, recently introduced 6 new Symbian smartphones with Belle or Anna on-board, and released the Nokia N9 running MeeGo, which Nokia CEO Stephen Elop says is an iconic design. Nokia, one of the largest phone makers in the world, is shipping 12 phones a second, and the company wants to do more. How will it accomplish that? In London, Nokia is introducing 4 more phones running on the Symbian platform that will continue to 'connect people,' a la the company's slogan. The phones being introduced are entry-level phones from the Asha line: Asha 200, 201, 300, 303.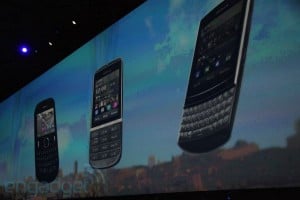 These phones are meant to be affordable and will help connect people in countries where there isn't a lot of Internet saturation through wired connections. In these places, people can rely on their mobile connection to access the web, such as India, which has a population of 1.2 and only 63 million fixed Internet lines.
The Asha 300 will present users with a keyboard to make texting easier. The smartphone will also have a touchscreen up top as well.
The Asha 200 will have a QWERTY keyboard as well as dual-SIM support. The Asha 200 and 201 will both run the S40 feature phone platform.
The Asha 300 will have a acpacitive touchscreen and a 1 GHz CPU.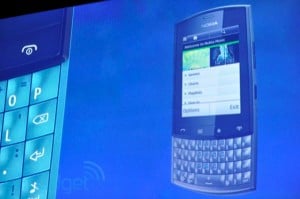 The Asha 303 will combine a touchscreen as well as QWERTY keyboard.
Nokia has partnered with some developers to port apps to the S40 platform, including Facebook, Angry Birds, and Twitter. Nokia says that all of its new phones will come with the Nokia Browser, which will do server-side rendering and compress websites, up to 90%, to save on bandwidth.
Via: Engadget

As an Amazon Associate I earn from qualifying purchases.