Nokia 808 Pureview: Nokia Pureview from the Best Camera Phone Yet
The Nokia 808 Pureview is simply the best camera-phone we've seen so far. Its more capable than many dedicated cameras and is something to look at if you're serious about high-quality photos on the go. Unfortunately, the Nokia 808's Pureview camera is about the only thing to love about the device since it runs on Symbian, an operating system that isn't nearly as polished as iOS, Android or Windows Phone.
I was skeptical when I heard about the Nokia Pureview 808's whopping 41 megapixel sensor. More megapixels don't always equal better quality since they're just one part of the equation, but Nokia's camera phone lives up to the hype.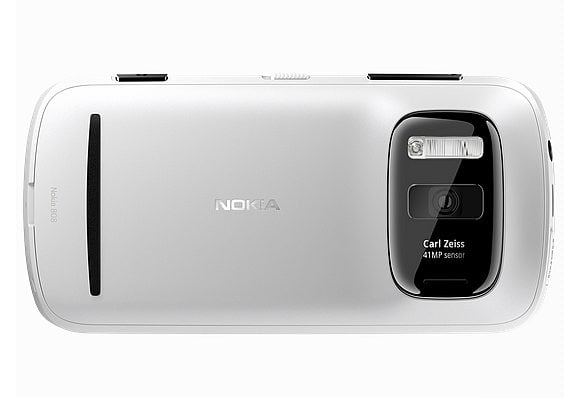 The Noika 808 Pureview is very easy to use as a camera. The automatic mode snaps 8 megapixel images and does everything automatically as you'd expect. There are several preset scene modes, such as macro, to allow for select user adjustments. The creative mode shoots at 38 megapixel images and allows full manual control over ISO, exposure, contrast, sharpness and more.
The Nokia Pureview 808 can zoom up to 3x in automatic and scene modes. The camera-phone digitally crops the images to 8MP and the results are simply amazing.
Note: Click on gallery thumbnails at end of this article for full-sized image samples
Here's a photo fo my keyboard using the macro scene mode and zoomed in.
Here's a pair of champagne flutes at a winery in Sonoma county. The Nokia 808 Pureview clearly captures the tiny bubbles foaming at the top of the glass and those floating. There's also a nice bokeh effect.
This is an image of son and myself at bedtime. I shot this in a completely dark bedroom and am pretty happy with the results. I simply can't use my iPhone 5 or Galaxy Nexus in dimly lit rooms. Facebook, Twitter and photo sharing sites are filled with poorly exposed smartphone pictures of kids blowing out birthday candles, groups at nightclubs and couples dining in dark restaurants.
Above and below are some samples I shot in the pits of the IndyCar race at Infineon Raceway.
The Nokia 808 Pureview exceeds expectations on the video front as well.  There's a microphone beneath the camera lens that picks up audio better than most other smarphones.  Above is a clip from the IndyCar race.
What I like about the Nokia 808 Pureview starts and stops with the camera. It runs on Symbian, which is downright archaic compared to the competition. The Nokia Store is void of just about every app I use on my iPhone and Galaxy Nexus.  The phone is slow and frustrating to use until you launch the camera app. As much as I love the camera functionality, I don't recommend buying the Nokia 808 Pureview as your primary camera unless you simply must have the world's best camera phone right now. The Pureview technology will surely make its way into Nokia's Windows phone in the near future. If you're willing to pay $30 per month for a T-Mobile pre-paid plan this device could make a very nice secondary camera phone.

As an Amazon Associate I earn from qualifying purchases.