Nokia 900 Series Rumored Specs Are Too Good to Be True?
In as much as I want these leaked and rumored specs for the Nokia 900 Windows Phone 7 device, forthcoming from the Finnish former Symbian phone-maker, to be true, the specs appear nothing more than wishful thinking created by a crazed fan. However, if true, the Nokia 900 will be among the best phones on the market with leading technologies for processor, graphics, display, and more, coupled with Nokia' strong industrial design, build quality, and camera prowess.
The 4-inch 720p display would utilize Nokia's Clear Black Display technology based on AMOLED screens. The device would have a resolution of 1,280 X 720 pixels and could capture images with a 12-megapixel camera sensor, similar to that on the Nokia N8, and record videos in 1080p at 30 frames per second.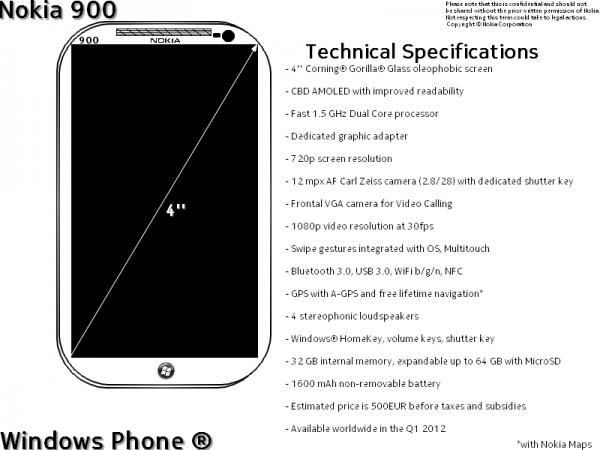 Here are the specs:
4″ Gorilla Glass oleophobic screen
CBD AMOLED
Dual Core 1.5GHz processor
Dedicated graphics adapter
720p screen (haha, I remember falling for that one when N9 supposedly had this, though there are real phones from competition supposedly coming with 720p screen)
1080p 30fps video
12mpx camera
VGA front camera
Swipes gesture (oh really)
GPS with AGPS
BT3.0, WiFi, NFC
4 stereophonic(?) speakers
32GB + MicroSD
1600mAh
Also, it seems that the 32 GB of on-board memory on this phone, with the ability to add another 32 GB via a micro SDHC card would give this device a whopping 64 GB of memory. Unfortunately, as
My Nokia Blog
mentions, some of the Nokia 900's specs were previously rumored for the MeeGo-powered N9 or N950 phone, though many of these high-end hardware features never made it to the MeeGo devices leaving us a little bit cautious and wary if they'll end up on a Windows Phone device. If true, the device is expected to retail for around 500 Euro in Q1 2012.

As an Amazon Associate I earn from qualifying purchases.