Nokia Adds Social to Nokia Maps for Windows Phone
The Nokia Maps app for Windows Phone is now in version 2.0 and along with the upgrade in version number, Nokia has also added some new features to its maps app. Nokia is now adding a social layer and crowd sourcing some of reviews of places and destinations.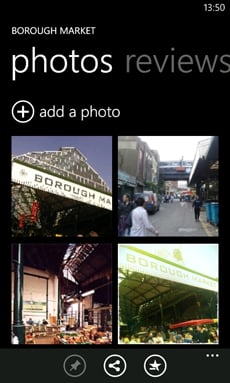 The new Nokia Maps 2.0 app now allows Lumia phone owners to add photos and write reviews from their smartphones.
One of the best ways to make a difference in location-based services is posting photos and reviews: that's how you remember your visit to a place and how you contribute to its story. With Nokia Maps you can now add a photo to a place description and leave a relevant review directly from your Nokia Lumia. Your contributions will be then available to you and everyone else on Nokia Maps and on maps.nokia.com.
Rival Google had also recently updated its Google Maps app for rival platforms to include professional reviews thanks to its acquisition of Zagat guides; Google Maps had incorporated reviews from users as well as integrating reviews from other services like Yelp in the past.
Additionally, you can also pin favorite locations to your Metro start screen and favorite locations are now synchronized with your Nokia account.
With Nokia Maps you can already pin individual places or places categories, but with this new version you can also pin to start the directions to get to a place on foot, by car or by public transport. You'll have instant access to the best route there, wherever you happen to be.
Users can find the updated version of Nokia Maps for their Lumia smartphones on the Windows Phone Marketplace.