Nokia And AOL Partner For New Entrance Lumia Entertainment App
Nokia's newest exclusive Windows Phone app helps users find information about music, movies, and TV shows and view some content all in the same app.
The new app is Entrance by AOL, and it combines a number of features into one comprehensive app. For movies Entrance lets users watch trailers and check showtimes. For music the app provides free full-length listens to popular new albums and streaming radio from thousands of SHOUTcast stations. For TV shows it offers photo galleries and news.
Entrance by AOL also brings users news for each of the topics highlighted in the app and celebrity news/gossip.
Perhaps the most interesting feature of the app is the augmented reality feature. With augmented reality users can use their phones to find the closest movie theaters to them. The app overlays movie theater information on the realtime images from the Lumia's camera. The information shows users how far the theater is, price of tickets, and how when the next movie showings are. It's perfect for travelers who want to see a movie, but aren't sure where the closest theater is.
The app's free music album previews come from AOL Music and CD Listening Party. After listening to the albums users have the option to buy and download them. The feature is only available for popular and "up-and-coming" artists, so don't expect to listen to every new album for free.
Like any great Windows Phone app Entrance by AOL lets users pin content to their Start Screen for easy viewing later. Users can pin movies, artists, radio stations, albums, or celebrities for quick access. It's great of keeping track of movies like The Hobbit or keeping up with the latest news on Robert Downey Jr. as he films Iron Man 3.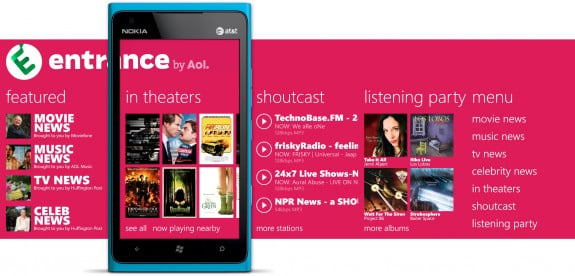 As an Amazon Associate I earn from qualifying purchases.