Nokia Announces HSPA+ Lumia 900
In addition to having announced a 4G LTE version of the Windows Phone-powered Lumia 900 for AT&T in the U.S. last month at the Consumer Electronics Show, Nokia is kicking off Mobile World Congress with the announcement that the 4.3-inch camera-capable smartphone will be crossing the Atlantic with an HSPA+ version.
The 4G LTE version that's available Stateside will also be heading to Canadian carrier Rogers with LTE support come this April. This should bode well for Canadians who are eager for 4G LTE network support.
The HSPA+ version will be headed globally beginning in the second quarter.
The Lumia 900 is essentially a larger version of the Lumia 800, which has been acclaimed for its industrial design as well as Nokia's software package that comes bundled with the phone, including Nokia Drive, a free voice-guided turn-by-turn GPS software with on-board maps storage.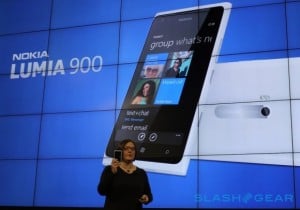 Additionally, the Lumia 900 will be coming with Nokia Reading, a Nokia-designed app that aggregates news from various sources in a magazine-style format similar to third-party Android apps like Feedly and Pulse.
Aside from the HSPA+ radio on the international GSM edition of the Lumia 900, it doesn't appear that much else has been changed from the AT&T version with LTE network support. The Lumia 900 boasts wide-angle front-facing and rear-facing Carl Zeiss cameras. The device has a a flat, rather than a curved screen on the Lumia 800, glass display that uses a non-PenTile AMOLED display, leading to crisper images and text. Nokia has been making a big stride in the Windows Phone space after having announced a partnership with Microsoft a year ago at the same trade show, and the manufacturer is now the leading Windows Phone-maker besting rivals HTC and Samsung.