Nokia Announces Lumia 920 with 4.5-Inch Display, PureView and Wireless Charging
Nokia new flagship Windows Phone, the Lumia 920, is here and it sounds like a huge improvement over the Lumia 900.
The new Nokia Lumia 920 features a 4.5-unch PureMotion HD+ display and uses a 1.5GHz dual-core Snapdragon S4 processor. The Lumia 920 looks a bit like the Lumia 900 to us, but comes in different colors including yellow, red, gray, white, and black.
Like the 808 PureView, the Lumia 920 uses Nokia's PureView technology to improve the quality of the camera. Unlike the 808 PureView however, the Lumia 920 has an 8.7MP camera instead of a 41MP sensor. Instead of over-sampling, the Lumia 920 uses PureView technology to ensure photos look better than photos from any other smartphone, according to Nokia.
The technology should result in sharper pictures in low lighting and better images in every other situation. We'll be testing this out as soon as we get a Lumia 920 in for review.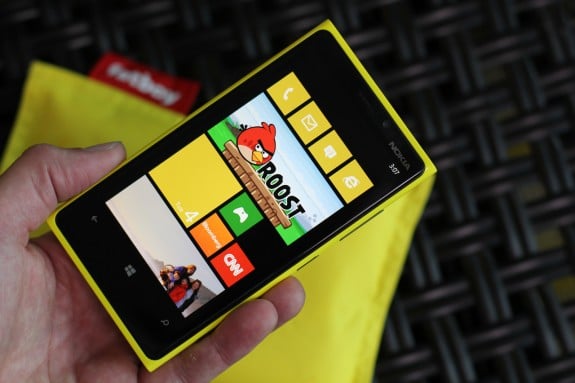 The PureMotion HD+ screen of the Lumia 920 is an HD screen with curved glass that Nokia says is easy to read in sunlight. The company claims users can even see the screen in the direct sunlight of a desert.
To make the Lumia 920 easier to charge, Nokia built wireless charging into the phone so users no longer need to plug their phone in to charge. This uses the Qi wireless charging standard so users have an option of chargers and Nokia is partnering to get chargers in public places.
The Nokia Lumia 920 will ship with Windows Phone 8 when the platform launches sometime later this year. Unfortunately, Microsoft isn't talking about the release date of Windows Phone 8, so Nokia can't announce the release date of the Lumia 920 yet.
Nokia's new flagship looks like a great step forward for Nokia and the Windows Phone platform. We can't wait to get our hands on this device when it comes to market later this year.

As an Amazon Associate I earn from qualifying purchases.