Nokia Beefs Up Low-End With Lumia 525
Nokia's newly announced Lumia 525 should be just enough of an upgrade to keep the company's fortune in low-end smartphones on the right track.
Announced today, the Lumia 525 is essentially the same phone that smartphone buyers looking for an affordable way to get into apps and games would expect from a device following the Lumia 520. Like the model it replaces, the Nokia Lumia 525 includes a 4-inch WXVGA display, a Qualcomm Snapdragon S4 processor and a rear-facing 5 megapixel camera.
In fact, those specifications completely match the Lumia 520, the current low-end Lumia powerhouse that has finally began to turn around the company's smartphone fortunes in some parts of the world. Where this model differentiates from its predecessor is in RAM. While the Lumia 520 only included 512MB, the Lumia 525 sports a full 1GB. That upgrade means that the Lumia 525 will run more high-end applications than its predecessor.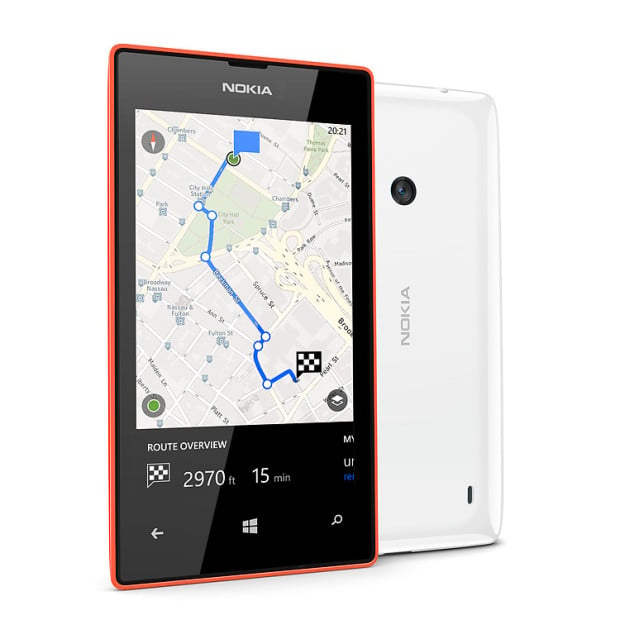 The device also sports 8GB of on-board storage with the option to add more using a built-in MicroSD card slot.
Unfortunately, Nokia hasn't made any other upgrades to the device. As such, the Lumia 525 is still a smartphone with more than a few compromises. For starters, that rear-facing camera isn't backed by a flash module of any kind, so taking pictures with the device without another light source is impossible. There's also no front-facing camera or support for Nokia's wireless charging accessories. That's a shame as the Lumia 525 is sure to face competition from Motorola's Moto G.
That device costs users just $179 without a two-year service agreement and includes a rear-facing 5 megapixel camera with flash and a 1.3 megapixel front-facing camera.
Read: Unlocked Moto G Now Available Directly From Motorola
As the Lumia 520 is the world's most popular Windows Phone, faltering sales of its replacement could put Windows Phone in a downward spiral. According to The Verge, Nokia doesn't have plans to launch the Lumia 525 worldwide. Instead the device will go on sale in Singapore on December 14th for SGD249 or $199.
The Lumia 520 is available as the Nokia Lumia 521 on T-Mobile for just $99 when purchased at Wal-Mart. AT&T users can get the device for just $69.99 at Wal-Mart as well. Both prices do not include a two-year service agreement.

This article may contain affiliate links. Click here for more details.