Nokia & Burton Deliver a Gloves-On Snowboarding App
Today Nokia and Burton announced a new exclusive Lumia app designed to help snowboarders get the most out of their trips.
The new Burton app will help snowboarders in every part of their trip. Before leaving for a trip users can use the app to buy new gear or check the slope forecast for their resort. The app can give users the forecast for several different slopes so they can pick the one they want to go to.
If the resort with the best forecast is an unfamiliar one users can look up the information for the resort in the app. The app will help them see the surrounding area as well with built-in maps support.
https://youtu.be/k-4xqnqPqqc
Once on the slopes the Burton app can stream music through its own custom Tune Up playlists designed to motivate snowboarders.
Users who prefer to stay on the sidelines can use the Burton app to take sequenced photos of their friends. The app makes it easy to take photos detailing entire tricks by first taking a short video and deciding which frames to include. The feature looks a lot like HTC Zoe in the HTC One, but with more limited functionality.
The Burton app will even let users stuck at home enjoy the sport with videos from Burton's Open Events. The events feature competitions between some of the best snowboarders in the world.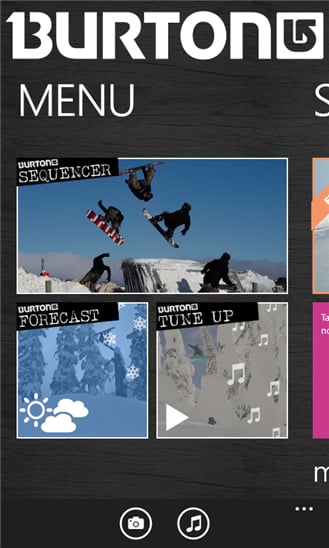 The Burton app seems like a natural fit for Nokia Lumia phones, especially the Lumia 920. A big feature of the Nokia Lumia 920 is the ability to interact with the phones while wearing gloves. That means snowboarders don't have to take off their gloves to interact with the app.
That's especially helpful for taking photos with the sequencer feature as nobody wants to take their gloves off just to take photos while standing on a mountain.