Nokia Concept for Dual Screen Handheld
A lot of folks have their eye on Nokia when it comes to small ultra mobile devices. And this little grab from a patent filing sure looks interesting. Apparently that is a dual touch screen with a detachable keyboard. Remove the keyboard and use both screens as one display.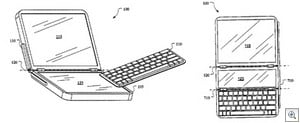 No real hard info here, and who knows if this is a converged device or another Internet Tablet design. But it sure is interesting.
Via Gizmodo

As an Amazon Associate I earn from qualifying purchases.