Nokia Confirms 41-Megapixel Lumia EOS for July 11th Event
Nokia continues to play coy about its July 11th event, which is widely believed to be the venue to host the debut of a 41-megapixel PureView Lumia Windows Phone device. The camera-centric event is now hinted on Nokia's blog where the smartphone-maker says there is "41 million reasons to zoom" into the event on July 11th.
Though Nokia isn't really detailing what the reasons to zoom in are with respect to the camera functionality of the rumored and highly anticipated camera phone, the smartphone-maker is teasing users that they can find out from the comfort of their home through a webcast.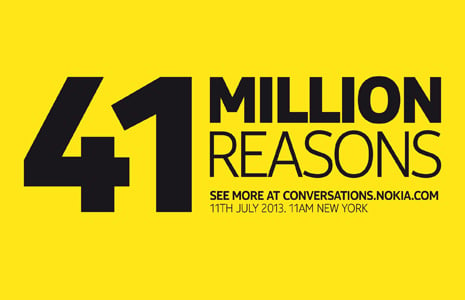 The 41-megapixel camera sensor first debuted on the Symbian-powered Nokia 808 smartphone over a year ago. Since then, Nokia has been rumored to be introducing the large sensor with a high megapixel count to its Lumia range, which runs Microsoft's Windows Phone platform. Thus far, though, with the Lumia line, Nokia had not used the 41-megapixel PureView sensor and instead opted for other camera innovations, including an optical image stabilization mechanism that helps to facilitate shake-free video and low light photography without the need for a flash.
The "zoom" in the referenced blog post is a great benefit of the large sensor. Though users may not care to have a 41-megapixel camera sensor as an 8-megapixel sensor on the iPhone today may do the trick, the large sensor with high megapixel count helps users to zoom into an image without loss to details by cropping into a scene.
The phone is expected to compete against rival Samsung's Galaxy S4 Zoom, another camera-centric phone release for this year.
The Nokia Lumia EOS is expected to be available with AT&T in the U.S. market and has been rumored to be in field testing.m