Nokia E6, X7 Now Shipping with Anna; E7, N8, C6 Update is 'Coming Soon'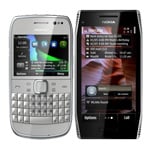 Nokia has revealed that its Symbian^3 Nokia E6 and X7 are now shipping, and both devices will ship pre-loaded with the Symbian software update called Anna, formally known as PR 2.0. Unfortunately, though the news is somewhat bittersweet for early adopters of Nokia's Symbian^3 products like the Nokia E7, a handset with a landscape-oriented QWERTY keyboard, the Nokia N8 with its stellar camera, and the consumer-centric C6 as Anna is still not yet available. In its blog, Nokia promises that Anna for the older handsets will be coming soon: "And fear not Nokia N8, E7, C7 and C6 fans – Symbian Ann will be available for you in the coming months."
https://youtu.be/jXIQSpxnHxI
https://youtu.be/tL9EO3R_f_I
Here's what Nokia is listing as some of the highlights of Anna:
Symbian Anna
– Faster and better web experience with an all new browser.
– The long-awaited portrait QWERTY plus split screen text input.
– All new Ovi Maps with public transport routes and other enhancements.

As an Amazon Associate I earn from qualifying purchases.