Nokia EOS Teased For July 11 New York City Event
On July 11 Nokia will hold an event in New York City where it will likely debut the rumored Nokia EOS, a true PureView Windows Phone with a 41MP camera.
The invite sent to Engadget and other publications calls the event "zoom reinvented," which is a not-so-subtle hint at the technology that will debut at the event. There isn't much more to the invitation, though it's fairly obvious the event is for the Nokia EOS Windows Phone with a 41MP sensor.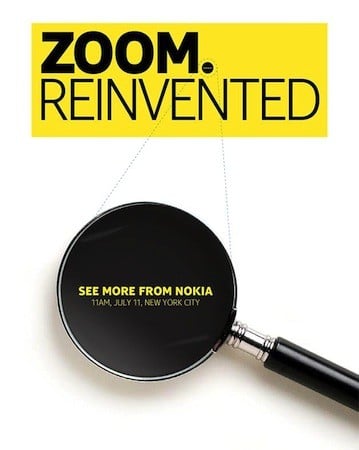 The rumored Nokia EOS recently appeared in a number of leaked photos that showed a Lumia Windows Phone that looks like other Lumia smartphones with a relatively large area for the camera. The section for the camera sensor and flash looks very similar to the camera on the back of the 808 PureView, raising the camera from the rest of the phone's back.
While the Nokia 920, 928 and 925 all have PureView cameras, none of them have the same technology as the 808 PureView which the Nokia EOS may contain. The technology in the 808 PureView uses the 41MP sensor to take 8MP or 5MP photos that look like they came out of a high-end point-and-shoot, or a low-end DSLR camera.
The 41MP PureView sensor allows users to zoom into their photos many times while keeping the same amount of detail and clarity. Hence the "zoom reinvented" moniker for the event.
Like the PureView cameras in the current high-end Nokia Lumia phones, the 41MP sensor in the Symbian phone can take great photos in low light and has optical image stabilisation to make photos less blurry.
There's no hint as to when the Nokia EOS will come to the U.S. in the invite, nor what carriers it may come to. Nokia currently has smartphones on AT&T, T-Mobile and Verizon, so any of those are possible for the new device. Nokia typically gives its high-end Lumia devices to AT&T first, but that doesn't mean the Nokia Lumia EOS won't come to other carriers.

As an Amazon Associate I earn from qualifying purchases.