Nokia Extends Free GPS Navigation to Series 40 Feature Phones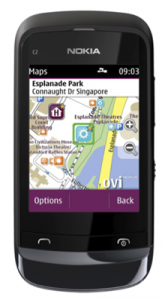 Blurring the lines between smartphones and feature phones, Nokia will be extending its Nokia Maps, formerly Ovi Maps, to its Nokia S40 (Series 40) phone owners. While S40 devices resemble Symbian devices, those phones running the S40 interfaces aren't considered smartphones and Nokia targets these devices towards new and emerging markets. The premise is similar to what HTC is doing with the Wildfire, which runs the Brew MP platform and comes with the HTC Sense user interface to resemble the HTC smartphone experience, but isn't technically considered a smartphone.
With S40 devices now getting voice-guided turn-by-turn navigation instructions for free, Nokia is delivering more added value to those devices. In the U.S., feature phones lack the third-party GPS software integration to offer this capabilities, and carriers typically partner with TeleNav to deliver a bundled subscription-based navigation option for users, but those options cost extra for those who would prefer to save a bit of money by choosing a non-smartphone as is.
Nokia says that the new maps app for its series 40 devices does not rely on an internal GPS, but rather can provide accurate navigation instructions by way of purely utilizing cellular tower triangulation technology to pinpoint a user's location.
Additionally, as maps can be downloaded and stored offline, this means that users wouldn't have to consume massive amounts of mobile broadband data to download maps during navigation. Maps can be pre-installed ahead of time and stored locally on the phone. If users want to share their location with friends, that can be accomplished via an SMS message.
Via: Nokia Conversations