Nokia HERE Maps Arrive for iPhone and iPad
Nokia's newly rebranded HERE Maps app is now available in the App Store for iPhone and iPad while Google is still working on its iPhone Maps app.
The new HERE Maps app uses the same Nokia and NAVTEQ mapping data as Nokia's previous maps service, but now its available as a free app instead of a mobile website. HERE Maps offers driving, walking, and public transportation directions in the same app, though there are a few limitations.
HERE Maps offers turn-by-turn directions for walking, including audio cues for when to turn. The walking directions even include shortcuts like parks and other public spaces. The app doesn't offer turn-by-turn directions for cars, however. Drivers will need to have someone else in the car read the directions for them if they want to use HERE Maps for driving.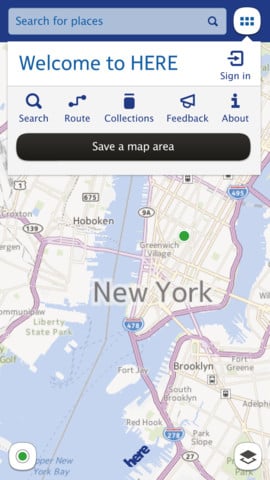 The new app also offers public transportation directions, but unlike apps such as Embark it doesn't offer timetables for public transportation. For services like the New York City subway where trains run every ten minutes or so that's not a problem. It is a problem for trains or buses that only run a few times a day at specific times.
For offline viewing HERE Maps lets users download sections of the world map to access at any time. The maps contain four zoom levels, and because of that they are quite large. For example, a relatively small section of Brooklyn was a 20MB download. Less dense areas will likely have smaller maps, however.
In addition to the traditional maps features HERE Maps includes a special "Collections" feature. Collections lets users save locations on the maps for future reference. With it users can save a restaurant they want to visit so they can easily find it later, or save locations they visit often so they can always get directions there if needed.
HERE saves every location in Collections in the cloud so users can access them on any device where they sign into HERE Maps.