Nokia Italy Confirms Windows Phone 7.8 Coming This Month
After a user had reached out on Twitter asking about the Windows Phone 7.8 software update for Windows Phone 7.5 devices, Nokia's Italian arm had publicly responded saying that the update is coming 'in a few days,' promising that more details will follow.
In the recent past, there have been talk that Nokia has been ready with its Windows Phone 7.8 update and the manufacturer is waiting for Microsoft to give the green light to begin rolling out the updates to current handsets.
Microsoft had announced Windows Phone 7.8 alongside the Windows Phone 8 operating system. As at the time current Windows Phone 7.x devices were announced to not be receiving a Windows Phone 8 update due to hardware requirements, Microsoft had created a stopgap solution to appease existing platform owners in the form of Windows Phone 7.8.
Aesthetically, Windows Phone 7.8 provides a visually similar experience to the newer Windows Phone 8 with re-sizeable Live Tiles on the home Metro UI screen. As Windows Phone 8 uses the same underlying kernel for app development as Windows 8 and Windows RT for the desktop and tablet platforms, Windows Phone 7.8 won't share that same kernel so it won't benefit from Windows Phone 8-specific apps.
In addition to Nokia Italy, Nokia Spain also confirmed via Facebook that the 7.8 updates will be rolling out this month, according to a report on WMPU. Nokia Spain says that the rollout timeline will depend on carriers as carriers will have to certify the OS update before it can be deployed to consumers.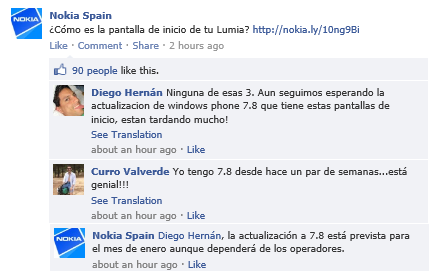 The Windows Phone 7.8 software has been shipping on new phones from Nokia. The update should be arriving on devices like the Nokia Lumia 800 and Nokia Lumia 900. AT&T in the U.S. had offered the Nokia Lumia 900 with 4G LTE support and T-Mobile carried the Nokia Lumia 710, which was at the time considered a midrange offering.