Nokia Lumia 1020 Brings 41MP Pureview Camera to AT&T
Today at an event in New York City Nokia announced its new Lumia 1020, a Windows Phone with a massive 41MP PureView camera.
The new Nokia Lumia 1020 brings the camera sensor of last year's Nokia 808 PureView to a Windows Phone 8 device. Like the 808 PureView, the sensor in the Lumia 1020 will let users take highly detailed 5MP photos and gigantic 34MP or 39MP photos that use the full sensor at the same time.
The phone uses Nokia's oversampling technology to take those highly detailed photos, which can also help create high detailed, zoomed-in HD video. Nokia also used the floating-lens technology of the Lumia 920 to bring optical image stabilization to the Lumia 1020, which helps users take less blurry photos and video.
To help users take images in low-light the Lumia also included a Xenon flash on the Lumia 1020.
The large sensor also helps the Lumia 1020 take incredibly detailed photos that users can zoom into without losing any of quality or detail.
Nokia includes a new camera app in the Lumia 1020 that lets users change multiple settings. The Nokia Pro Camera app, as the name implies, gives users advanced camera controls such as exposure time, ISO settings and manual focus.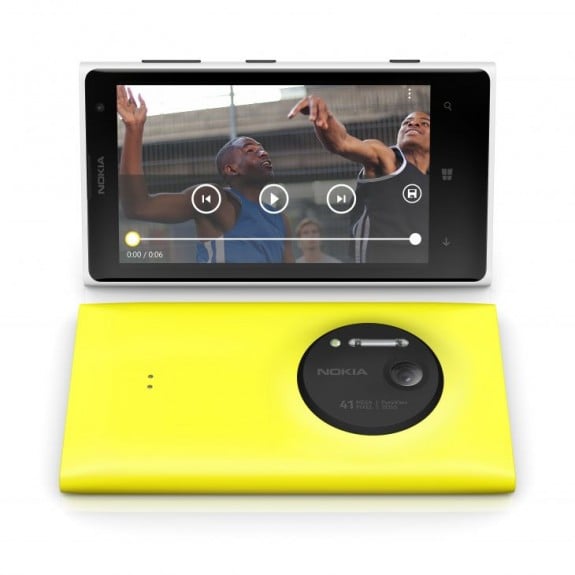 For users who want better control over their photos Nokia will sell the Nokia Camera Grip for the phone that adds an extra grip, a two-step shutter button and a larger battery to the phone.
Like the 808 PureView, the Lumia 1020 also includes an advanced microphone setup that records high-quality audio with little distortion.
The Nokia Lumia 1020 looks very similar to the 920 with a polycarbonate shell that comes in a variety of colors (yellow, white and black). The front of the phone has a very similar 4.5-inch PureMotion HD+ display. On the back of the phone, however, the Lumia 1020 has a bulge that hold the gigantic sensor and flash.
https://www.youtube.com/watch?feature=player_detailpage&v=digt4JF5-fE
Inside the Nokia Lumia 1020 packs 32GB of storage space and 2GB of RAM. The storage means users will have plenty of space for all of their photos. The RAM will help the phone run Windows Phone 8 quickly.
Like all Nokia Lumia smartphone, the Lumia 1020 will include numerous Nokia exclusive apps such as Here Maps, Nokia Drive, Nokia Music and Nokia Here LiveSight.
The Nokia Lumia 1020 will come to AT&T on July 26, for $299.99.

As an Amazon Associate I earn from qualifying purchases.