Nokia Lumia 1020 Hands-on
The Nokia Lumia 1020 is Nokia's latest flagship Windows Phone that finally brings the powerful sensor of the 808 PureView to a phone with a decent platform.
The polycarbonate Lumia 1020 looks and feel a lot like the Nokia Lumia 920, with an extra-large sensor on the back. The bulge around the camera sensor is strange at first, but doesn't interfere with using the device.
Like other high-end Lumia phones, the Nokia Lumia 1020 runs Windows Phone 8 smoothly and has a great looking screen. The basic experience is familiar to anyone who's used Windows Phone 8 on other devices. The biggest new features aside from the camera are the new camera apps from Nokia.
The Nokia Lumia 1020 comes with three camera apps: the default Windows Phone camera, Nokia Smart Camera and Nokia Pro Camera. Users can assign any of the three apps to the physical camera button. The two Nokia camera apps are the real stars of the phone.
Both Nokia apps will let users take full 34MP or 39MP photos in addition to oversampled 5MP photos. As expected, the photos taken with the two Nokia apps look spectacular. The 5MP photos have a tremendous amount of detail that look fantastic on the 4.5-inch PureMotion HD+ display. Even zoomed-in the photos still look great.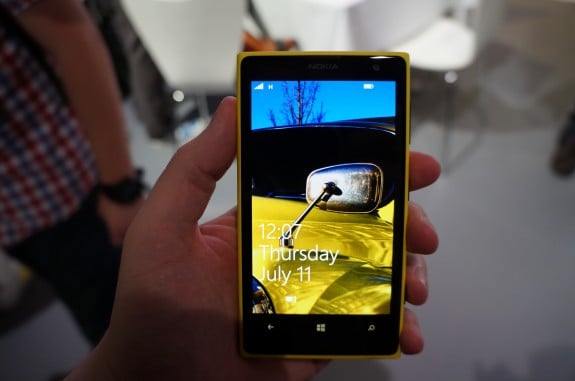 Most impressive is the Nokia Pro Camera which gives users a number of options over their photos, such as white balance, exposure time, ISO and focal point. With live previews it's easy for even amateur photographers to make their photos look great. Using the app is very easy, with simple sliding controls.
Overall, the Nokia Lumia 1020 makes a great first impression. Its unique design is great to hold, and the camera seems as impressive as Nokia claims. At $299.99 the phone is the same price as the 32GB iPhone 5, and it has the same amount of storage.
Nokia is trying to help Windows Phone catch up to Android and iOS with apps like Flipboard, Hipstamatic Oggl and Path. This phone certainly seems like a great device to help make Windows Phone 8 a more viable option for more users, with unique features and the new apps.