Nokia Lumia 1020 Review: The Camera Phone King
After much hype and anticipation, Nokia introduced the Lumia 1020 with a lot of fanfare and enthusiasm, and the Windows Phone 8 device doesn't disappoint. In the days surrounding the announcement of Nokia's 41-megapixel camera phone, the company dominated the conversations on Twitter and framed the dialogue around a new experience with zoom on a smartphone, coupled with low light photography, Xenon flash, a greatly improved Zeiss optics, and new software and integration with Microsoft's Windows Phone 8. So how does the Lumia 1020 perform, both as a camera–and at that a replacement for a standalone point-and-shoot–and as a phone? Join me in this GottaBeMobile review and find out.
Hardware
Though it looks similar to Lumias of yore, the Lumia 1020 comes with greatly improved ergonomics. The Lumia 1020 is both slimmer and lighter than its predecessor, sacrificing built-in wireless charging in favor of reduced heft and weight.
In terms of design, the front may look similar to the Lumia 920, also on AT&T's network, but the overarching fabula design is very much borrowed from the MeeGo-powered Nokia N9 released in late 2011 and the following Lumia 800, which debuted Nokia's entry into the Microsoft-powered smartphone ecosystem.
Curved edges, tapered surfaces, and a nice arched display all contribute to the success of Nokia's polycarbonate smartphone design, and in many ways the Lumia 1020 is an extension and a refined evolution of those design principles.
On the front, you have a curved glass display. The curved glass is a marriage of form and function, and the design complements the Windows Phone 8 OS extremely well as the curved sides make it easy–and much more fluid–to swipe and perform gestures.
You have the usual suspect on the front–a 4.5-inch HD+ Super AMOLED display with a PenTile sub-pixel arrangement. The resolution is 1280 X 768, which is slightly larger than the standard 1280 X 720 HD display, though not as good as recent Android flagships with a 1080p resolution screen. In reality though, the display is bright, crisp, and sharp, and consumers won't notice a difference with a 1080p display unless they're pixel peeping next to a Galaxy S4 from Samsung or an HTC One.
Refresh rate is fast for the screen and Nokia calls this its ClearMotion display technology, and when coupled with the bonded ClearBlack display users won't notice any glares and the display is bright enough to use even under direct sunlight.
And speaking of displays, your Lumia's window to Windows Phone is protected by Corning's Gorilla Glass 3 panel. Gorilla Glass 3 allows for slimmer, yet stronger and more impact-resistant glass, so you get a strengthened panel that protects against scratches.
There's also a front-facing 2-megapixel camera on the top.
My only complaint about the front is that the bezel is–like past Lumia designs–on the thicker side so it seems like a lot of wasted space, or that Nokia could have increased the display size to fit in this area. The upside with such big bezels is that there is plenty of room to accommodate the trio of capacitive touch Windows Phone navigation keys on the bottom. Because of this, the Back, Windows (home), and Search keys are not placed directly at the bottom edge of the phone, and consumers will appreciate this fact as it means that you won"t accidentally press one of the keys, like I typically do when using Samsung's Galaxy S4, when just idly holding the phone.
The rear is where Nokia really shows off its camera chops. You have a large circle, which resembles a lens housing on a point-and-shoot or compact mirrorless camera system, that protrudes from the polycarbonate finish.
The camera module here includes an LED autofocus and video light and a Xenon flash to the top of the actual camera lens, which now has 5 plastic lens elements and a Gorilla Glass 3 element to encase it all. The six-lens design helps with sharpness and clarity when shooting in daylight, and in reality I find that it reduces a lot of glare and ghosting found on prior Lumias, including the Lumia 928 on Verizon Wireless. You get Nokia, the 41-megapixel, Zeiss, and PureView branding all in this black circle, which is constructed from aluminum.
The sides are curved, and the top and bottom rear end are tapered, a design carryover from the Lumia 900 days on AT&T last year. There is also two exposed metallic dots, which works with an optional wireless charging cover and wireless charging pad, so you can charge your phone without having to directly plug in any wires.
The left spine of the phone is bare of buttons, and the matte finish makes it a pleasure to hold and grip. In fact, the phone's matte finish really aids into making the device feel good and also helps prevent the phone from slipping out of the hands, unlike with glossy covers.
And while the matte finish may help with gripping the phone in the hands, the finish may also attract stains, especially when you place your phone in the pockets of dark denim jeans. The matte finish on my white Nokia 808 suffered from a stain where the dye of the wrist strap bled onto the phone, leaving a black streak.
On the top, you have the micro SIM card tray, in which the card is accessible only with the included SIM ejector tool (or paperclip should you misplace your tool). There is one of two stereo microphones used for video recording as well as a 3.5 mm headphone jack.
The right spine is a bit busier, housing the volume rocker buttons, the power button, and also a dual-stage camera shutter key. You can activate the camera–even when the screen is off–by pressing and holding the shutter for a few seconds. Unlike Lumias of yore, doing so will launch Nokia's new Pro Camera app and not the default Microsoft camera app. We'll talk about this in a bit.
On the bottom, you have a lanyard loop so you can attach the included wrist strap to your phone, which helps when using as a camera to prevent slippage. There's also a micro USB charging port, and to the right of that you have micro-drilled speaker grills. Behind the grill are two components–the speaker and also the second stereo microphone.
Software
Nokia really comes into its own with the Lumia 1020, importing many useful features from its old Symbian platform and marrying it to Windows Phone to have a more complete, better experience. One of those features is a clock screen that shows the time, even when the screen is turned off. Called Glance, the functionality enables Lumia 1020 owners to glance at the time without having to turn on their screen every time.
It's great for conference rooms and a useful tool to check the time when sitting in a movie. Other enhancements include the new Pro Camera app, turn-by-turn via Nokia Drive+, and Nokia Music for Pandora-style listening.
Lumia 1020 Software Exclusives. We've covered the basics of the Windows Phone platform over the years through the Lumia 710, Lumia 800, Lumia 900, Lumia 920, and Lumia 928 reviews, and for the most part, not much has changed for the platform. Things are still buttery smooth and the experience is smooth with the Live Tiles, Metro UI, and the panoramic app screens and hubs. What we will discuss, in length, is some of the pre-loaded Nokia software, apps, and enhancements to the Lumia 1020, many of which will enhance the camera and photography experience, which is the hallmark of this phone.
Nokia Pro Camera App. The Pro Camera app is simple enough to use–for many beginners–as just a point and shoot UI. Instantly, you'll notice that Pro Camera is a bit different than the default Windows Phone camera app experience as now, when you tap on the screen to focus, it works more like many Android phones and the iPhone. Now, tap to focus is just that–focusing. In the Windows Phone default app, tap to focus will focus and snap the picture in one swoop. You will still need to either press the on-screen focus or the hardware shutter button.
The app will either allow you to capture a 34-megapixel 16:9 image or a 4:3 38-megapixel image, depending on aspect ratio. Users will be able to set up the camera to either capture the mega-large image, or the mega-large image and a smaller 5-megapixel image at the same time with the smaller resolution more suited for sharing via email, MMS, and social networks. By default, the camera is setup to capture a 16:9 photo with a 34-megapixel image as well as a 5-megapixel image for sharing.
But capturing simultaneous images has its drawbacks too. If you're doing posed shots or headshots, it should be fine. If you're doing sports photography, you may want to turn off either the 5-megapixel capture or the higher resolution one as saving both files and processing them does take a bit longer than usual.
Diving deeper into the camera UI, users can swipe the on-screen camera shutter key from right to left to reveal dials for different exposure settings, giving them adjustments for shutter speed, ISO, manual focus adjustments, exposure compensation, and white balance. What's still missing is aperture control, but for the most part, enthusiast photographers will have pretty much all the exposure settings they need to have creative control over the shot.
Camera. Thanks to an improved camera hardware design compared to many smartphones on the market today, the Lumia 1020 delivers a powerful punch. It merges the optical image stabilization from the current flagship Lumia 920, 925, and 928 series along with the ultra-large, pixel-rich sensor from the Nokia 808 PureView's 41-megapixel camera. What you get is a highly detailed shot–suitable for blowing up to poster size if you wish or for cropping to reveal fine details.
You do have a 41-megapixel sensor, but the sensor is also large as well. This allows for more creative control, allowing for better shallow depth of field capture. Though the sensor isn't as large as the basic 1-inch sensor on the mirrorless Nikon 1 system, it is quite a bit larger than the 1/2.3-inch sensors of traditional point-and-shoot cameras. Users who opt to control the manual focusing with the manual focusing ring, via software, will find that the depth of field will be easy to control, allowing for nice subject matter isolation for either blurred background and tact-sharp subjects, or blurred foregrounds and focused backgrounds.
Lossless Zoom. Though some may feel that the 41-megapixel sensor may be overkill for a smartphone–or even for a camera–the point of having that many pixels is the ability to have lossless digital zoom.
Think of it this way, when you're zooming with an 8-megapixel iPhone 5 sensor, you're taking a postcard and cropping into the middle, resulting in an end image that's a postage stamp-sized print, but blown up to a postcard. That means you'll have lots of noise and grain when you zoom in on a traditional smartphone camera, and details would be lost.
When you're zooming with Nokia's 41-megapixel PureView sensor, you're starting with a poster-sized image rather than a postcard. Cropping and zooming this way would give you a resulting image of maybe a postcard, and so when you compare against an iPhone there really is no apparent loss of resolution or quality when using zoom on the Lumia 1020.
To perform zoom, you can either zoom in when you're taking the image by performing a swipe gesture. From anywhere on the camera UI screen, swipe your finger upwards to zoom. Or, the second way to zoom is after you have captured the image. You can either crop the image in-camera and re-frame your photo, or you can transfer the high resolution images to your PC and crop it there.
Framing and Reframing Images. Another side effect of the lossless zoom is that you can continuously frame and reframe your images after you've captured them. In traditional photography, you would zoom, and then snap your picture. In this case, if you change your mind, the only other thing to do at this point is to crop your image, resulting in an end photo that is further zoomed in.
On the Lumia 1020, you can zoom before or even after you've taken the image. Consider this, when you zoom in on the Lumia 1020, the camera will give you two images. The first image is the current Live View preview on the AMOLED display, showing you the framed, zoomed in shot. The second image is the non-zoomed in, giving a wider angle of view with the camera's 26mm focal length Zeiss lens. This way, when you go and see the image, you can decide later if you want to have more of the background, and you can edit to zoom out. If you want to zoom in more after you've captured your image, you can do so by cropping as well, but the ability to zoom out and rotate the photo after you've captured your image is a great tool to have.
Smart Camera. Though somewhat confusing, another camera app that Nokia makes available for download, via the Windows Phone Store, is the Smart Camera app. Smart Camera takes a series of ten sequential images and uses intelligent software to analyze the best image and also to give you some creative control. You can create an Action Shot where a sequence of images are overlaid on top of each other to give the illusion of movement.
A Motion Focus shot focuses in on the person or object that is in motion in the sequenced shot and blurs the background to focus in on the subject. It's similar to shallow depth of field and gives illusion of fast moving motion where everything in the background is blurred due to the speed of what the object in motion is traveling at.
And then there's the ability to remove automatically things that are in motion. As you can see in the image sample just below, everything that was in motion in the frame was taken out. This is good if someone walks into your frame or if you're with friends who like to photo bomb.
And while many of these options are available as different, separate modes, like on Samsung's Galaxy S4, the attractiveness of this software solution is that you don't have to pre-select it. On Samsung, I'd have to select Action Shot or Eraser Mode before I shoot. Here, by allowing the camera to take a series of ten images, it stores them all and I can decide later what mode I want at the end. There is also a Change Face option that allows users who take portraits or group shots to swap out faces if someone in the shot wasn't smiling in one of the ten frames, or had their eyes shut.
Camera Performance. Though the camera is feature-rich at this time, I do have a few complaints with the camera, and hopefully these quirks can be addressed via a simple software update in the future. The first complaint is sometimes the camera locks up, and only a restart of the phone would fix this issue. Though the camera would launch and the controls and dials would work, I cannot capture images when this lockup happens. This applies to video mode as well.
The second complaint I have is that with the Smart Camera app and the Pro Camera App, along with a number of different lenses and photo editing suites (Creative Suite from Nokia), there may be just too much going on. This is on top of the Windows Phone Camera, which also ships on the Lumia 1020. For those switching from Android or iOS and have no experience with Windows Phone, this experience may be confusing. Still, Nokia rectifies this in part by mapping the shutter directly to the Nokia Pro Camera app, but I feel that the company may do well by consolidating all the separate apps into one experience.
Video Sample (Galaxy S4 v. Lumia 1020)
Image Samples (Lumia 1020, Galaxy S4, iPhone 5)
Though the Lumia 1020 has a Xenon flash and both the Galaxy S4 and iPhone 5 have single-LED flash bulbs, the image samples below show photos captured in all lighting conditions, without the use of any artificial flash lighting. I wanted to see how each sensor can handle noise, grain, and details in various lighting conditions without the aid of a flash.
And though I did post any images taken with the Xenon flash from the Lumia 1020, it appears that Nokia did correct the white balance issue when Xenon is used. Because Nokia developed the Pro Camera app, the Xenon flash now has the proper white balance and won't render skin tones orange.
Lumia 1020 Image samples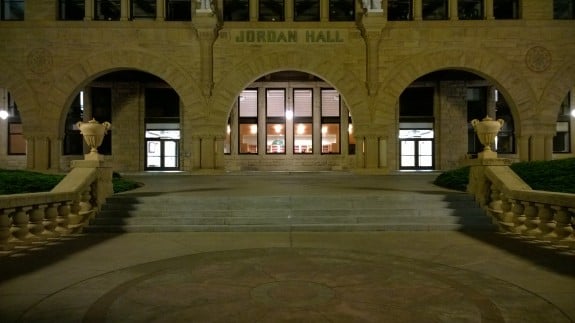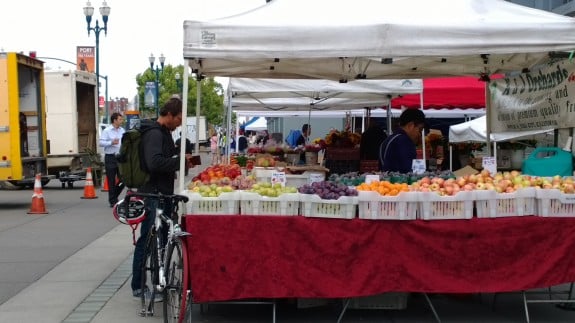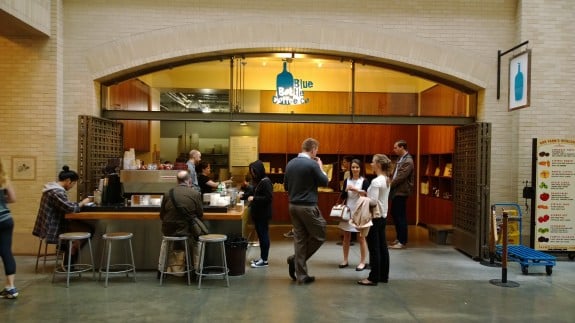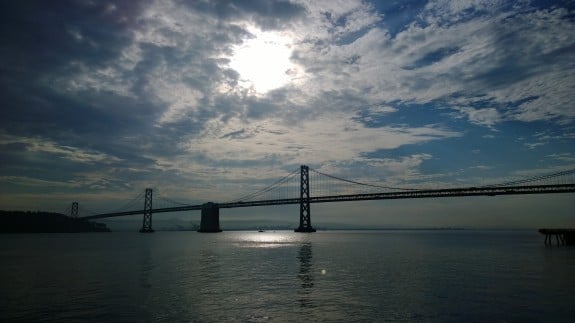 Galaxy S4
The backside illuminated sensor of the Galaxy S4 does a good job at night, but is no matched compared to the larger sensor with optical image stabilization of Nokia's Lumia 1020. Depending on the shots, sometimes the Galaxy S4 does a better job. For instance, the photo of the band playing, the Galaxy S4 does a better job, I think, than the Lumia, but other shots taken at night or indoors with low light during the day were done better on the Lumia.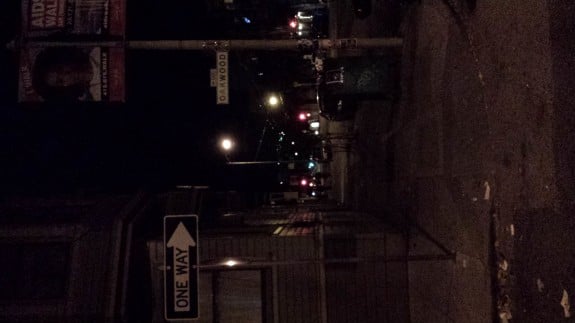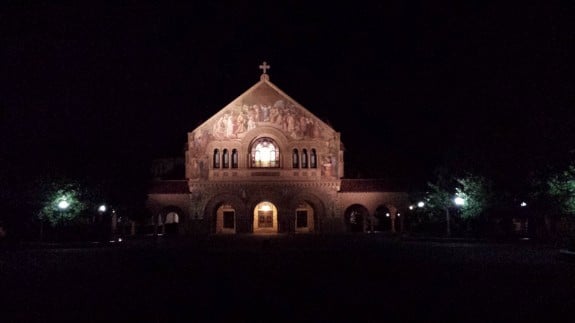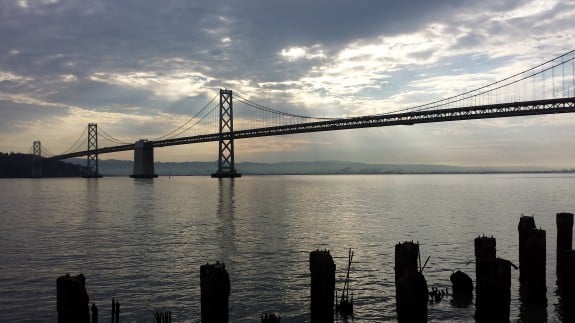 iPhone 5
Images captured with the iPhone 5 with decent light are good, but lack the details of the increased megapixels on the Galaxy S4 or Lumia 1020. Lumia's camera achieve better details either through higher megapixel count (up to 41), or over-sampling by analyzing all the pixels and compressing the image into a smaller 5-megapixel sensor. In darker lighting, the sensor of the iPhone does suffer and there is apparent grain and noise in the images.
Battery Life, Call Quality
As my review unit arrived late due to some delays with AT&T, I was not able to have an accurate battery life test. I'll re-visit this review with more posts and updates in the future about the Lumia 1020 to give you a gauge of battery life as I use the phone more under more normal circumstances. As it stands now, I mostly use the phone to take camera image samples, check emails, and make quick phone calls, so any battery life indication I would offer would not be indicative of normal usage. As such, I'll reserve comment on this topic for now.
In terms of call quality and data speeds, AT&T's network in San Jose and San Francisco, California was excellent. In congested San Francisco, California where rival Verizon's network would slow down for data calls, AT&T's was still fast. On average, I get between 10 to 30 Mbps on the download side here and anywhere between 5 and 20 Mbps with uploads. In San Jose, Verizon's network performed almost equally as well, so your mileage may vary depending on network conditions and traffic congestion.
Calls, like on all Nokia phones, sounded warm, loud, and pleasing. The Lumia 1020 had no issues with reception or call quality whatsoever, and I am overall very pleased with the call quality. I think call quality sounds better and warmer than on competing handsets on iOS and Android.
Conclusion
The Nokia Lumia 1020 should be on the short list of phones to consider for anyone who is looking to upgrade to a new device this year. Though Windows Phone's ecosystem isn't as robust as Android's or Apple's, there are still plenty of apps to choose from, and in most cases where an official app isn't available, there is a decent third-party alternative. 6Sec is a third-party alternative for Vine and I use Instance as my Instagram client, for example.
Still, despite a growing app catalog, there are still some qualms with Microsoft's platform. Though I love the email app, I cannot attach documents directly from within an email itself. There is still no Xbox video store where I can purchase, rent, and watch movies on the go on my phone, and as a heavy user of Google services, I find the lack of Google apps a challenge, although not an impossible one. There are apps for Google Drive, third-party clients for Google Talk, and even a Google Search hub. I just want a better Google Voice client with push notifications that work.
In terms of what Nokia has done with the platform, it's nothing short of amazing. From small improvements like the Glance screen to larger apps like Nokia Drive+ and Nokia Music, there is a lot of value that you're getting with the Lumia 1020, which retails for $300 for a 32 GB phone. While some may balk at the $300 contract price, the phone is competitive with the iPhone given you're getting 32 GB of internal storage, while at the same time besting every other smartphone on the market with its insanely awesome PureView camera.
The camera alone should make those who are interested in preserving memories and telling stories, people with children or pet, or any photography enthusiast salivating as it's truly the first highly capable camera that you can always take with you. Bridging the DSLR gap with a smartphone, the Nokia Lumia 1020 may just be the smartphone of the year; I highly doubt Apple or Android will be able to catch up to Nokia anytime soon.
From low light to bright light, the Lumia not only captures superb images, but offers users who demand more from their phones a lot of creative control and flexibility. Now, it's just up to Microsoft to ramp up Windows Phone to keep the platform competitive.
The Lumia 1020 is simply the best camera phone on the market, and Nokia extends its leadership proudly once again with this flagship device. Windows Phone is catching up, and despite not having the latest quad-core CPUs or 1080p displays, the Lumia 1020 shows that Windows Phone can deliver on more frugal computing power, all wrapped in an attractive from factor that's as beautiful as it is functional.
Editor's Note. As the Nokia Lumia 1020 is a popular device, we'll continue to post about our experiences with this phone. Given the limited time we've had with the device, we'll explore more about the camera once we better familiarize ourselves with how it handles over time and update our experiences. Additionally, we'll continue to monitor battery life. As I've personally pre-ordered the Lumia 1020, it will become my daily driver and I'll write more about my experiences with the phone, Windows Phone as a platform, and the apps ecosystem as time goes on.

As an Amazon Associate I earn from qualifying purchases.