Nokia Lumia 1520 Gets Release Date on AT&T
After having been announced late last month at Nokia World, the Windows Phone 8-powered Lumia 1520 flagship phablet is finally getting a launch date in the U.S. with exclusive carrier AT&T. The device will become available to buy, as revealed by the Microsoft Store preorder page, starting on November 15th for $199 on contract or $549 without a contract for those looking at AT&T's Next plans.
It's unclear if the phone will become available at the same time internationally at this time, but AT&T customers looking for a quad-core monster with a full HD 1080p display should start saving their money as the Lumia 1520 packs quite a punch. In addition to those mentioned hardware firsts for Microsoft's mobile OS platform, the Lumia 1520 also comes with a 20-megapixel PureView camera with optical image stabilization and the ability to re-focus the shot after having captured the image.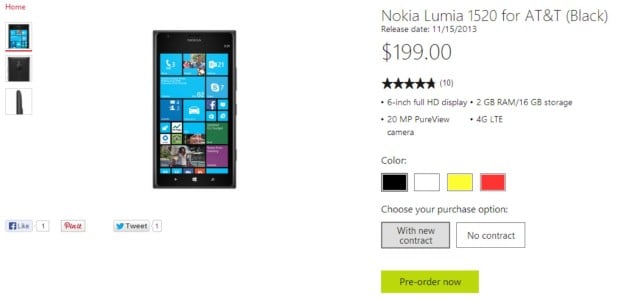 One thing that will be different with the Lumia 1520 on AT&T compared with the international model will be that the model will not come with the Qi wireless charging sensor pre-installed inside the shell of the phone. International versions of the Lumia 1520 comes with Qi wireless charging built-in, similar to the Lumia 920 on AT&T. However, as AT&T recently joined the PMA wireless charging consortium, a rival to the Qi standard, the carrier decided to dump Qi on the Lumia 1520.
Instead, Nokia is saying that wireless charging shells that will be compatible with AT&T's PMA standard will be offered at a later date.
The good news is that the PMA wireless charging standard will be supported at select Starbucks location so you can charge up while sipping on a latte if you purchase the optional wireless charging covers.
And the Lumia 1520 will become one of the first Nokia flagship Windows Phone 8 devices to come with a micro SD card slot. Though Nokia had offered devices with micro SD built-in in the past, those devices were entry-level or mid-range phones, not flagships.