Nokia Lumia 2520 Tablet Review
The Lumia 2520 is a bold release for Nokia, a Finnish brand that has in recent years been synonomous with the mobile OS it chooses to use on its phones. Not only is the Lumia 2520 available in bright, bold colors and will be the only other Windows RT-toting tab on the market–other than Microsoft's own Surface 2–it also represents a direct challenger to the Surface 2, a fact that's further complicated by the fact that Microsoft is in the midst of finalizing the acquisition of Nokia's devices division.
But that's not necessarily a bad thing–choice, after all, is a blessing of the free market, and Nokia has built a worthy tablet for its first foray into the Windows slate computing market.
The Lumia 2520 is built on a design heritage not unlike what Nokia has been using since the Lumia 800, its first Windows Phone. Though it looks flatter, and bigger, the device closely resembles the aesthetics of the concurrently released Lumia 1520, a 6-inch Windows Phone phablet on AT&T.
Unlike the Surface 2, this means that the angular look, hard lines, and cold Vapor Magnesium shell is gone in favor of bright, colorful polycarbonate shells. Depending on the color you choose, the plastic shell will either be available in an ultra-glossy finish, which does attract fingerprints easily, or a subdued and less glitzy matte coat. The Lumia 2520 is warm with softer edges, rounded corners, and an equally thin design.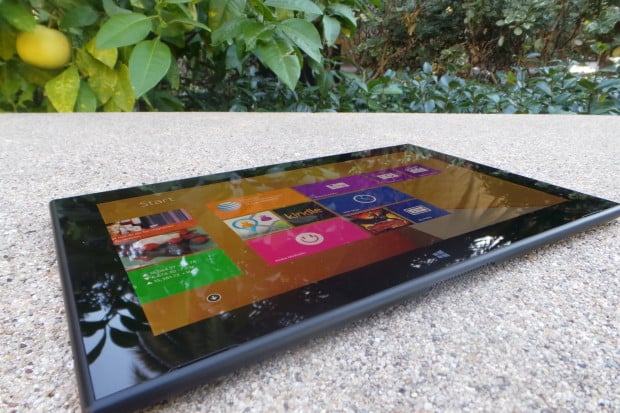 The Lumia 2520 is both a bit lighter and a bit smaller than the Surface 2 tablet that it competes against, though the reduction in weight could have been more aggressive as the 2520 still clocks in at a hefty 1.36 pounds whereas Apple's recent iPad Air now weighs just a pound. Though many similarities can be drawn between the Surface 2 and the Lumia 2520–both tablets come with optional keyboard docks–the main difference between these two Windows RT devices is that the Lumia 2520 is designed as a tablet first.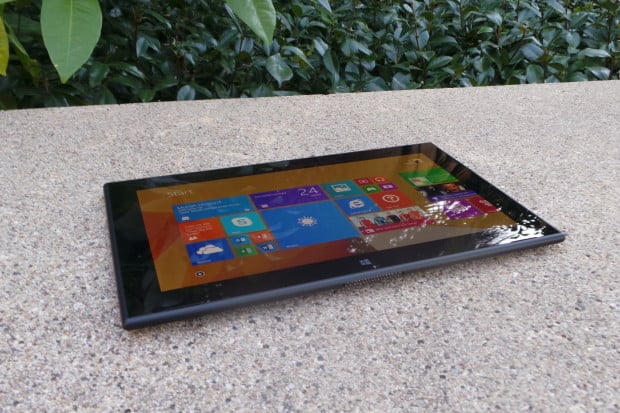 What this means is that you won't find any generous helpings of ports, despite the "Windows" branding in the OS. Around the edges, you'll find a magnetic docking port, similar to the Surface 2, at the bottom where you can latch the tablet into its optional powered keyboard dock, charging port, and headphone jack on the left edge, a key-accessible SIM card and micro SDXC card slot along with power and volume keys, and on the right side you have a micro HDMI port and a micro USB 3.0 port.
Unfortunately, you'll need to carry Nokia's separate wall charger for this tablet as the tablet doesn't charge via micro USB. And as to the charging cable, it's a simple charger and not the fancier magnetic charger that's bundled with the Surface. Still the battery can be recharged to about 80 percent in an hour.
As to what the micro USB 3.0 port does? Well, you can buy a micro USB 3.0 On the Go (OTG) cable, or a compatible micro USB 2.0 OTG cable to connect flash drives, hard drives, and other USB peripherals to the Lumia 2520. Unfortunately, due to Nokia's oversight, the OTG cable was not included in the box.
The front is where the tablet really shines. A 10.1-inch 1920 X 1080 full HD resolution panel is super bight, and Nokia says that the brighter screen with 650 nits (usually screens come with just 300 or so nits) makes the tablet easier to use outdoors. The display is stunning. Indoors and under ambient lighting, the screen really pops and it looks like the swaths of colors that fill Windows' Live Tiles just float on the glass surface. Viewing angles are excellent on the Lumia 2520.
Off the bat, one complaint about the screen is that it uses a narrow 16:9 aspect ratio, which means that you have less height for viewing documents, webpages, and spreadsheets when holding the tablet in landscape mode, and in portrait mode the pages in my e-books–which is the normal orientation that I hold my tablets for reading–appears to be too narrow and too long. I actually prefer my tablets to have something close to a 4:3 aspect ratio, even if that aspect ratio produces letterboxing for viewing HD videos.
I find Nokia's outdoors claims to be mostly true, depending on the usage scenario. Under a shaded tree in the sun, the Nokia's ClearBlack Display technology shines through and colors are vibrant and text is still readable. In comparison, when looking at the 8-inch Dell Venue 8 Pro display, that tablet's screen displayed more washed out colors under similar conditions and the screen doesn't appear as bright under maximum brightness settings when compared to the Lumia's more rich display.
However, under direct sunlight, things changed a bit. When the sun is shining straight onto the screen, the Venue 8 Pro's display was still viewable whereas the Lumia 2520's screen became difficult to view, although you can strain to still make out what's showing on the display.
That isn't to say that the Lumia 2520's display is bad–its performance really varies. Additionally, though colors popped and the screen is bright, there is a slight yellowing of the display which becomes noticeable when you're viewing text on a white background. The screen has the lowest reflectivity of any tablet display, according to Nokia, and the screen is protected by Corning's strengthened Gorilla Glass 2 panel.
The entire tablet runs the more lightweight Windows RT operating system, and though the OS shares its name with Microsoft's more powerful desktop-class Windows 8.1 OS, RT is more limited in its handling. You'll get the same Live Tiles and gesture support as you do on the home screen of 8.1, but that's where the similarities end.
RT won't allow you to run legacy programs on the Lumia 2520–so no Photoshop, Microsoft Access, or any custom programs that you may use for Windows 7 or earlier. Instead, you'll have to rely on the Windows Store to get your apps, similar to what Apple does with iOS and the App Store. And while this may be a good solution for Apple and Android, the problem is that Microsoft's app catalog isn't as robust as its rivals.
The app situation on Windows RT should change in the future as Microsoft standardizes all three of its computing platforms–Windows, Windows Phone, and Windows RT–to using common code, so in the future one app should work on all three platforms. This should open up the Windows market more, and developers will likely find a larger user base to target their apps, which should help drive developers to Microsoft. It's unclear at this time when that change will happen, and for now the Lumia 2520 represents Nokia's investment in another Microsoft platform after Windows Phone.
Additionally, while you'll be able to get apps from the Windows Store, and music through Xbox Music, you won't be able to get magazines, e-books, movies, or TV shows directly from Microsoft, though a number of third-party apps are available that would give you access to those content, like Kindle, Netflix, Zinio, and Hulu Plus.
The reason that legacy apps isn't supported is that the Lumia 2520 and Windows RT do not run on Intel's x86 architecture. Instead, the Lumia 2520 is powered by a quad-core ARM-based Qualcomm Snapdragon 800 processor alongside 2 GB of RAM. Performance is pretty fast and fluid, and processing speed on the Qualcomm processor rivals the specs of the Surface 2 that's powered by an equally powerful quad-core NVIDIA Tegra 4 chipset.
Where Nokia shines is its heritage in mobility. Unlike the Surface 2 that's available only in WiFi variants at this time, the Lumia 2520 doesn't have a WiFi-only option. It's available with 4G LTE support and comes either with support for AT&T's or Verizon's networks in the U.S. As such, for the slightly higher $500 price of entry, you'll have the option to add mobile broadband connectivity if you need it, and the Lumia 2520 comes with GPS for more accurate location information.
The model that we're reviewing is the black Lumia 2520 on AT&T's 4G LTE network. In general, my download speeds hovered around 20 Mbps and upload speeds were in excess of 10 Mbps on AT&T throughout the San Francisco Bay Area. I find reception to be good with the Lumia 2520, and WiFi delivered equally speedy results. Your result will vary based on location, coverage, and network conditions.
Nokia has always tried to differentiate its devices with stellar cameras, and the Lumia 2520 is no exception. Though we wouldn't advise using a 10.1-inch slab as your camera–your phone or a dedicated camera is better suited for this–the Lumia 2520 will do the job in a pinch. The device is equipped with a 6.7-megapixel with f1.9 aperture that does well in low light.
Though focusing can be off sometimes, it's one of the better camera setups on a tablet, and performance of the camera exceeds cameras on other Windows tablets, like the Windows 8-powered Dell Venue 8 Pro, a device that has a 5-megapixel rear camera. On the Nokia camera, you have better dynamic range.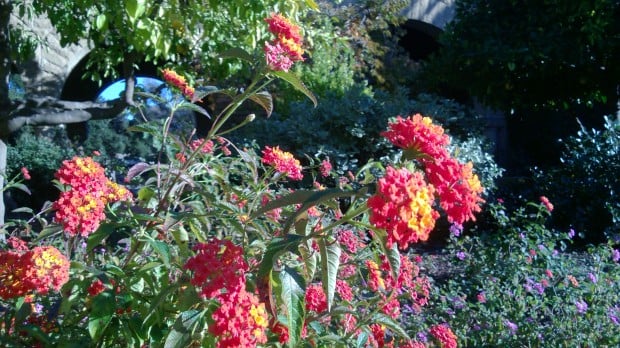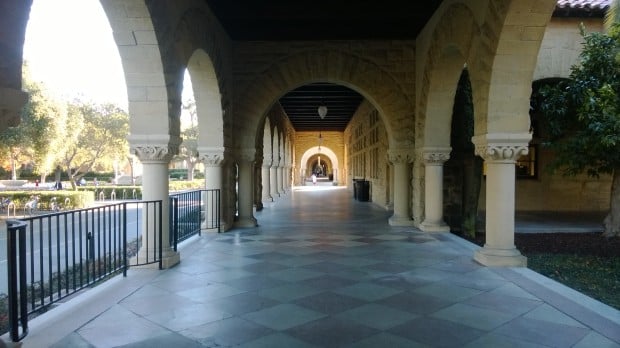 Photographers who rely on their tablets to capture images or videos can either use the standard Windows camera app, or the Nokia Camera app, a program that resembles a much simplified version of the Nokia Pro Camera app that debuted on the Lumia 1020, but without all the extra settings.
Nokia also bundled a apps to get you going. Nokia Mix Radio competes directly with Microsoft's Xbox Music in allowing users to create free playlists of music based on song, artist, or genre. It's like Pandora. There's Nokia Video Director, which is an easy to use, albeit very simple, way to make video edits. Nokia Storyteller is a contextual way to arrange and group your images together, based on time and location, whereas Here Maps will let you explore what's around you with GPS. Here Maps will give you written turn-by-turn navigation directions, though you won't get spoken directions, so the Lumia 2520 likely won't be your car computer for GPS mapping.
Though Nokia's addition of its custom apps is welcomed, it may lead to a confusing experience as some of the apps are redundant with Windows RT's native apps. Nokia Camera duplicates the function of the standard Camera app; Here Maps competes with the Maps app; Nokia Mix Radio occupies a similar space to Xbox Music; and Nokia Storyteller can be seen as a revamped edition of the Photos app on Windows.
And depending on your carrier, carrier-specific apps may also come prelaoded. With AT&T, I have Kindle (Amazon's e-reading app), an AT&T Usage widget, and AT&T Family Map preloaded on my tablet.
The usual suite of Windows RT apps and programs are there. You have universal search with Bing integration, SkyDrive, and Skype. The nice thing about RT is that it comes with a full license of Microsoft Office for RT so you don't have to shell out extra money for Outlook, PowerPoint, Excel, and Word.
Though not as important for Windows RT, the classic Desktop mode is also present on the Lumia 2520. It appears when you launch your Microsoft Office suite, but as you cannot run legacy programs the Desktop serves little use. Most of your apps will launch from the Live Tiles. Where the Desktop adds value is having multiple windows of Internet Explorer open, which can come in useful for those who like to do Internet research or scour the daily news opening up many websites.
Speaking of apps, on the Lumia 2520, you can snap two apps side by side, a nice multitasking feature. Of note, though, if you snap two apps in landscape mode, the tablet locks up into landscape orientation and you cannot rotate into portrait mode until you unsnap the side-by-side apps. It's a little glitch, that hopefully Microsoft and Nokia can rectify with a software update.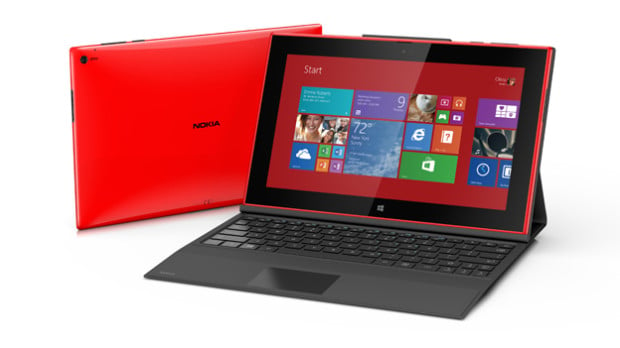 In terms of battery life, I was able to squeeze between 9 and 14 hours of battery life, depending on brightness settings and the task at hand. The battery life beats the iPad Air, and is very competitive. With the optional $150 powered keyboard dock, users can get an additional 5 hours of battery life, taking the total battery life in the neighborhood of 15 to 20 hours. I didn't get a review unit of the powered keyboard dock to review, so I cannot comment on its utility in making the Lumia 2520 more productive.
The tablet does magnetically snap and dock into the keyboard, which can fold up into a folio for easy transport. The dock also adds two full-sized USB ports so if you use flash drives often, the keyboard dock would help turn the tablet into more of a fully functional notebook.
Conclusion
Though given Microsoft's restrictions on Windows RT, there is little to fault with the Lumia 2520. It is a competitive device with modern specs that rivals the best tablets. However, the limitations of RT is where the Lumia 2520 stumbles when compared to modern tablets–lack of a robust catalog of apps, no storefronts for movies or magazines, and a confusing nomenclature (Windows 8.1 v. Windows RT)–may make the device a tough sell. Given that low-cost Atom-based Windows 8 tablets cost as little as this slate but do come with support for legacy programs, recommending Windows RT over Windows 8.1 is tough.
Where the Lumia 2520 excels though is with Nokia's heritage in mobility. The device is elegantly crafted and feels premium. It's one of the few Windows slates–one of the few tablets in general, actually–to come with bundled 4G LTE support, and has a stellar camera for a tablet, in the event you need to quickly scan or document something on the fly. The real value of the tablet is that it does come with Microsoft Office, so if you live and breathe Office, this may be the device to get. It's lightweight, portable, and connected. If you're okay with Windows RT and its more limited ecosystem, and need a hyper-connected device, the Lumia 2520 is definitely worth a look.

As an Amazon Associate I earn from qualifying purchases.