Nokia Lumia 710 for T-Mobile: Hardware, Pricing, Release Date
For quite some time now, folks in the United States have been waiting for a Nokia-made Windows Phone. And when Nokia World passed in October without any sort of U.S. availability, we could hear a large, collective sigh from folks who were eager to jump on the train. And while there may have been a wait involved, we now know that Nokia will be launching a phone in the United States come January.
That phone of course is the Lumia 710, Nokia's low-end Windows Phone Mango device that was announced alongside the Lumia 800 back in October.
Rather surprisingly, the phone is going to be headed to T-Mobile USA, the fourth largest service provider here in the U.S. That's not such a bad thing though. T-Mobile currently boasts some of the cheapest data plans out there and the Lumia 710 is not an expensive device.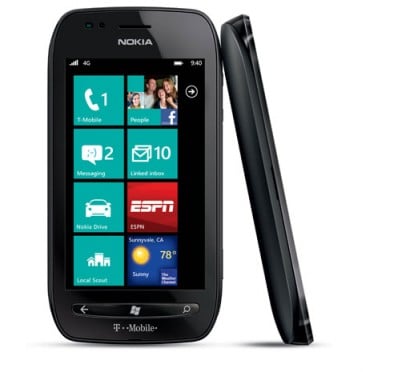 So those looking to get a Windows Phone Mango device cheaply, along with a cheap data plan, should be thrilled about this.
Right now, we sit just a few weeks away from the Lumia 710's launch and we wanted to give you a rundown of everything we know about the device. And while it's not a full review, you'll have to wait for us to go hands-on before we can deliver that, it should help you form a better opinion of whether or not you want to snag this device when it arrives next year.
Hardware
While the Nokia Lumia 710 isn't a monster in the hardware department, it's no slouch either. It boasts a 3.7-inch ClearBlack LCD display that checks in with 800 x 480 resolution, which is just a tad bit bigger than the screen found on the iPhone 4S, but with a much lower resolution. It'll still do the job for those that don't need to see things in HD.
It packs a solid 512MB of RAM, a 1.4GHz Qualcomm Snapdragon processor that should be able to handle Windows Phone Mango and all that it throws at it, a 5MP rear camera, and 8MP of storage space.
And it'll have support for T-Mobile's HSPA+ 14.4Mbps network.
It would have been nice if it had support for HSPA+ 42 but hey, beggars can't be choosers.
Software
The Nokia Lumia 710 will be powered by Microsoft's latest and greatest software, Windows Phone 7.5 aka Windows Phone Mango. Windows Phone Mango is far and away and improvement over the original piece of software and brings over 200+ improvements along with it.
If you've never used Microsoft's Windows Phone software, our own Chris Leckness went on a 20+ minute excursion with the software on the HTC Titan and it should give you a pretty good idea of what to expect.
Windows Phone is good and it's only going to get better when Microsoft rolls out the Windows Phone Tango and Windows Phone Apollo updates. And we have no doubt that the Lumia 710 will see one of those, if not both.
Release Date
When Nokia World came and went without an announcement, many wondered if Microsoft and Nokia would get a phone to the U.S. in time for the holidays. Unfortunately, that turned out to be the case.
The Lumia 710 will be launching in 2012 but fortunately, we won't have to wait for too long. Less than two weeks to be exact. The phone will be coming out on January 11th and we presume it will be available both online and in stores on that date.
It will then become the first Nokia phone with Windows Phone here in the U.S.
Pricing
As we've said, the Lumia 710 isn't a spec monster and that means that T-Mobile won't be charging and arm and a leg for it. Instead, the Nokia Lumia 710 has an extremely attractive price tag.
T-Mobile is going to be offering it up for a mere $49 on-contract when it arrives.
For a phone with the latest Windows Phone software and some pretty decent specifications, that's not bad at all.
And at that price, with those specs, this is definitely a phone that you might want to look at as a starter phone for someone in your family.

As an Amazon Associate I earn from qualifying purchases.