Nokia Lumia 800 Arrives in U.S. with $899 Price Tag
Consider this a public service announcement to those of you who have been waiting to get a Nokia-made Windows Phone here in the U.S. that's not the T-Mobile Nokia Lumia 710. Microsoft Stores around the country now have the unlocked Nokia Lumia 800 available for purchase. Sadly though, you're going to have to shell out $899 for the privilege of owning one.
Earlier this month, it became apparent that Nokia and Microsoft would be launching the Nokia 800 on February 14th. And while we hadn't heard much in regards to it actually being on shelves, WPCentral has confirmed that it is available for those of you sitting on piles of cash.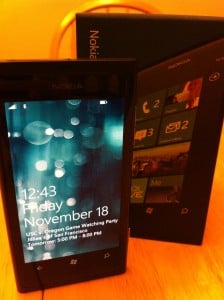 The $899 is going to nab you a bundle of accessories along with the Lumia 800.
(Read: Nokia Lumia 800 review.)
They include Nokia Play 360 Wireless Speaker, a Purity HD Stereo Headset, and a Bluetooth headset. Not a bad little bundle, you know, if the price wasn't so over-the-top.
If you don't want the bundle, too bad.
This is the only way that you can get the Nokia Lumia 800 here in the U.S. And neither Microsoft or Nokia has said if the device will ever go on sale by its lonesome. So for the time being, you're going to be stuck shelling out close to $1000 for it.
The Lumia 800 comes with a 3.7-inch AMOLED capacitive touchscreen with 480 x 800 pixel resolution, a single-core 1GHz Scorpion processor from Qualcomm, 512MB of RAM, 16GB of internal storage, an 8MP rear camera with Carl Zeiss optics and dual-LED flash, and a front-facing camera for video chatting.
It also runs Microsoft's Windows Phone Mango operating system.
To get a better feel for the Lumia 800, see our full-length video review below:
For those of you interested, you'll want to head here to find out where the closest Microsoft Store is to you as the Lumia 800 is only available in physical retail locations and not online.
At least for the time being.

As an Amazon Associate I earn from qualifying purchases.