Nokia Lumia 800 Comes to U.S. to Microsoft Stores
In addition to having announced the Lumia 900, an LTE smartphone for AT&T's 4G network, Nokia has just announced that the Lumia 800 will also be crossing the Atlantic to arrive in the U.S. on Microsoft Store shelves. When it was announced, the Lumia 800 was originally targeted at Europe and Asia, and Nokia had not given any information about the device's U.S. availability at Nokia World a few months ago. Fortunately, Americans looking to buy the sleek, minimalist and functional smartphone can do so through Microsoft's retail stores beginning in February.
The head-turning Nokia Lumia 800 will also be available from Microsoft Stores and available online in three vivid colors (cyan, magenta and matte black) and sold together with the equally amazing Nokia Play 360 Speakers and Nokia Monster Headsets. The unique Nokia bundle will be in store and available online in early February.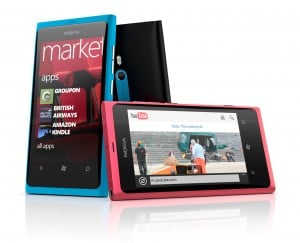 The company did not announce pricing for the handset, but it did say that the phone will be sold as part of a bundle with Nokia speakers and Nokia headsets. For its audio accessories, Nokia had partnered with Monster to deliver rich sounds.
Thus far, U.S. customers must rely either on importers, Amazon.com, or other retailers to deliver the Lumia 800 to the U.S. market.
Going with an imported model can sometimes be risky where warranties are concerned. As most warranties are specific to the country that the sold is intended to be sold and operated in, some manufacturers may not extend warranties in the event of equipment defect or malfunction to imported handsets.
Another retail outlet that is currently stocking and selling the Lumia 800 in the U.S. right now is Fry's Electronics. The retailer is offering the Lumia 800 unlocked for $800.
In the U.S., the unlocked handset will work on either T-Mobile or AT&T. However, its 3G radio is only compatible with AT&T's network so T-Mobile USA customers who decide to get the Lumia will have to operate the phone in the slower 2G EDGE data mode.

As an Amazon Associate I earn from qualifying purchases.